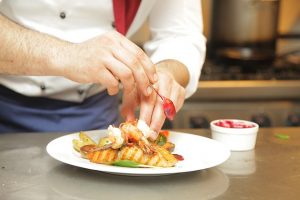 A study by the Royal Society for Public Health (RSPH) has revealed the most common and potentially dangerous mistakes hospitality staff and the general public make over food hygiene.
The study revealed the top five most widespread examples of bad practice in the kitchen, including the common phrase: "if it smells alright, you can eat it."
According to RSPH food safety examiners, the main areas of misunderstanding and malpractice among caterers were:
Buffets
Bacteria thrive in temperatures between 5°C and 63°C. Therefore buffet restaurants which leave their dishes out for more than an hour or two have been described by examiners as the number one practice putting people's health at danger.
Continuing to work when ill
Examiners found that catering staff were largely unaware of how easily infectious diseases can be spread by an infected member of staff entering the kitchen, even after symptoms subsided.
The RSPH claims that pressures to not lose out on work are leading many to overlook this and are returning to work while infected.
Inadequate understanding of the controls necessary to prevent allergen contamination
The UK sees around 10 deaths per year due to undeclared allergenic ingredients. The RSPH examiners believe that there is insufficient understanding of the controls needed to prevent allergen contamination.
The RSPH recommends extra training and more communication between front-of-house, waiting, and kitchen staff when dealing with allergen information.
Reuse of unclean cloths for cleaning surfaces
In many establishments, examiners found that staff would leave cleaning cloths to dry overnight and then reuse them the day after. Reusing unclean cloths spreads pathogens.
Temperature checking
When monitoring food temperature, examiners found catering staff just checking the temperature of the fridge however it is the food itself which must be probed.
To overcome these concerns, the RSPH is today (July 5) launching an e-learning course in food safety aimed at the hospitality workforce.
Shirley Cramer, chief executive, RSPH said: "The UK continues to have some of the highest standards when it comes to handling and preparing food safely. While many catering professionals have an excellent understanding of food safety regulations and best practice, it is worrying to hear some of the most common and hazardous mistakes and misconceptions which persist."
Richard Burton, director of qualifications, RSPH said: "Ideally, staff in the hospitality industry would have received food safety training and a relevant qualification before they started working in the industry. For those who haven't our new e-learning package will be an effective and convenient method of food safety training which will enable them to take a qualification with confidence."