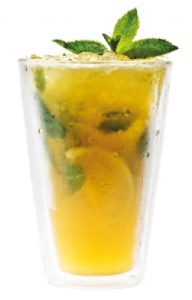 This twist on a classic recipe allows the notes from a golden rum to shine as well as adding some extra spice, great for an autumnal evening around the camp fire!
Ingredients:
• 10 mint leaves.
• 15 ml of fresh lime juice.
• 10ml of sugar syrup
• Crushed ice.
• 50ml Sun Rum (optional if you want to turn this into a mocktail)
• 100ml of ginger beer.
• Garnishes: fresh lime wedges or slices, fresh mint sprigs.
Instructions:
Add the mint leaves, lime juice, sugar syrup and Sun Rum in to a shaker and mash together. Once blended, add a few ice cubes and shake for about 20 seconds. Take a glass, ¾ filled with crushed ice and strain the cocktail mixture in, ensuring the small pieces of mint and lime are filtered out. Top up a hi-ball glass with ginger beer and slowly stir. Garnish as you wish with more lime and mint and add any remaining crushed ice to ensure the glass is presented well.