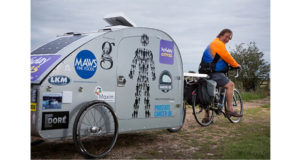 A restaurateur and publican is set to embark on a 2,000-mile charity bike ride to Syracuse in Sicily.
The Swansong ride, which will start from Rye town hall in Sussex on Saturday 1 September, is the initiative of Simon Aylett, who describes himself as "a large Englishman with metastatic prostate cancer".
While still able to do so, the 56-year-old, who runs The Union Steakhouse in Rye and The Plough Inn, near Udimore, plans to do the ride to raise money for Prostate Cancer UK with a target of raising £15,000.
He will undertake the journey on an electric bike, powered by renewable energy, towing behind him a homemade 'velopod' that will serve as his living accommodation during the eight-week trip. Designed and built by Mr Aylett and his 29-year-old son and engineer Ollie, it has solar photovoltaic panels on the roof to provide the power needed to charge the bike's batteries. The two-and-a-half-meter long pod also houses a small kitchen.
"I have been fighting prostate cancer for five years now and this slightly mad initiative is all about raising funds to help Prostate Cancer UK continue their fantastic work in promoting awareness of the disease and investing in research to find a cure for the third biggest cancer killer in the UK," he said.
"As I have never been the fittest of people and my training has been a little hampered by the drugs I have to take, riding 2,000 miles through Europe is a bit of a daunting challenge – but I have been incredibly heartened by the support I have received from my wife Sarah and sons Ollie and Toby, friends, customers, business contacts and also complete strangers."
The aluminium needed for the construction of the pod was supplied by LKM Recycling while Dore Metals re-processed the reclaimed raw material into sheet and box sections. Holiday Extras provided the pod's solar panels and lithium batteries. Sponsorship has also been provided by PR and marketing agency Maxim, Maws Fine Foods, PH Fish, Dawson & Associates and The George in Rye.
To date, Mr Aylett has raised £6,000, 40 per cent of his £15,000 target. For more information or to sponsor go to www.simonaylett.co.uk or text AYLE62 £5 to 70070 to donate a fiver.