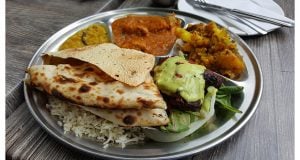 Mohammed Abdul Kuddus, the takeaway boss found guilty of manslaughter following the death of 15 year old Megan Lee, has won an appeal against his conviction. Kuddus was handed a two-year jail sentence in November 2018 in relation to the death of Megan Lee, who died from an asthma attack after eating food from the Royal Spice in Oswaldtwistle, Lancashire.
But Court of Appeal judges, sitting in London on Thursday, quashed his "unsafe" conviction for gross negligence manslaughter.
The court had heard that Lee and a friend had ordered a meal from the takeaway through Just Eat and written "prawns, nuts" in the comment section. Despite this the food delivered contained peanut proteins, which triggered a severe allergic reaction. The teenager died in hospital two days later on New Year's Day 2017.
A Home Office pathologist concluded her death was caused by a fatal asthma attack precipitated by an allergic reaction to nuts. Kuddus, sole director of the takeaway, who also worked there as a chef, was convicted of manslaughter by a jury at Manchester Crown Court along with manager Harun Rashid, who had previously sold the business to him. But the Court of Appeal allowed an appeal by Kuddus, of Blackburn, ruling his manslaughter conviction "cannot stand".
Sir Brian Leveson, announcing the decision yesterday, said Megan's order, including the comment about nuts and prawns to highlight her allergies, was seen by takeaway manager Harun Rashid but not passed on to Kuddus. He said: "He knew nothing of the allergy which she had declared. In those circumstances, the conviction for gross negligence manslaughter cannot stand".
But, he also went on to say: "There is now a general awareness of the potential risks to those who suffer from allergies and, as a result, it should be understood that the courts will rigorously scrutinise the way in which restaurants discharge the duty of care that they owe such customers".
Anaphylaxis Campaign Chief Executive Lynne Regent says: "We are shocked at this decision, and our thoughts go out to Megan's family during this difficult time. We will continue to work with the food industry to highlight how vital it is that people living with severe allergies are provided with food that is safe for them to eat. It is extremely important that food companies learn from this tragic incident and the implications of getting it wrong".