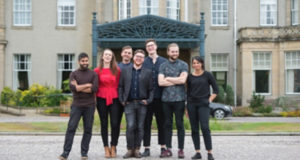 Diageo Reserve's premium Scotch whisky, Talisker has crowned the second ever winner of the Race to Skye bartender competition. After four challenges Stefanie Anderson of Bon Vivant, Edinburgh, has been given the title of 2018 'Race to Skye' Champion.
After a hugely successful inaugural launch in 2017, the 2018 competition returned for a second outing, proving once again to be a showcase of extraordinary talent. With an increased volume of entrants compared to last year, the 'Race to Skye' competition invited bartenders from Edinburgh, Glasgow, Manchester, Bournemouth, Bristol and London to create a cocktail that embodied Talisker's 'Made by the Sea' campaign.
The top ten competitors from each region were selected to compete in a series of highly competitive semi-finals with the final seven then chosen to compete in the finals from the 13th – 15th August on Skye.
Stefanie pitted her skills against Elysa McGuire from Epicurus: Death & Taxes, Leeds, Alex Francis from Devil's Darling, London, Mike Pendergast from the East London Liquor Company, London, Adam Day from Peggy's, Manchester, Liam Grogan from Kelvingrove Café, Glasgow, and Miran Chauhan from Buck & Birch, Edinburgh.
Like inaugural winner Andrew Lennie, Stefanie is awarded the title of honorary Talisker Ambassador* to support the Scotch whisky brand in telling its story and communicating the on-going Made by the Sea campaign. She will also enjoy an enhanced PR campaign to help raise her profile in the drinks industry.