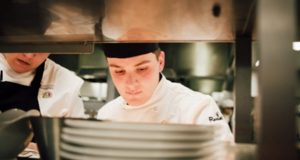 – Entries open for Nestle Professional® Toque d'Or® 2019 –
Registration opens today (5th November) for the prestigious 2019 Nestle Professional® Toque d'Or® competition for students and apprentice chefs at commis level in the UK.
Now in its 31st year, the Toque d'Or® competition is one of the UK's most influential training and development programmes, bridging the gap between the theories of the classroom, work-based learning and the exciting reality of the industry. It's free to enter and aims to inspire the next generation of talented young chefs to develop their skills, knowledge and experience, and to make more possible for themselves and the whole industry. Winning prizes this year will include a once in a lifetime gastronomic trip to Europe.
The competition itself has evolved significantly since its inauguration in line with the changing needs of the UK foodservice industry and education. This year, with research stating nearly half (44%) of consumers consider the sustainability of ingredients to be important when eating out, a key competition focus is on sustainability and vegetarianism. The competition will centre around menu items that posses excellent sustainability credentials and link into health and wellbeing; indeed, research shows two-thirds (62%) of consumers who eat and drink out, proactively try to lead a healthy lifestyle.
The competition has so far worked with 8,000 contestants, including Jamie Oliver, and highly-regarded supporters such as Anton Mosimann and former judge James Martin. Since 2016 it has not only been open to students but also apprentices at commis level, with 233 having entered so far. Well known judges this year include James Tanner from the Kentish Hare and the Barbican Kitchen, Simon Hulstone from The Elephant and Nestle Professional® Consultant Chef Andrej Prokes.
Katya Simmons, Managing Director, Nestlé Professional® UK&I said: "Our aim is to provide the future stars of our industries with new skills, enhancing their learning and career. We see Toque d'Or® as so much more than just a competition; we are focussed on motivating and inspiring potential talent and opening their minds to the opportunities within our industry. It's about giving them a taste of their future."
John Howarth, Toque d'Or® 2018 Apprentice finalist, added: "I've done a few cooking competitions before, but I've never been involved in one so fundamentally focused on the participants' development. Every part of the competition gave us an opportunity to develop not just as chefs but also as individuals with a love of food and an opinion."
Entering the Nestlé Professional® Toque d'Or® competition couldn't be easier. Whether you are a student or apprentice wanting to compete, or a lecturer or employer keen to show learners new opportunities, visit www.nestleprofessional.co.uk/toquedor. Registration for the competition closes on 30th November 2018.