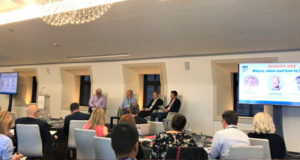 The CGA Future of Finance Conference brought together industry leaders, investors, tech specialists and CGA's own experts to scope financial opportunities and challenges for the sector. Here are ten of the messages from the day.
Positive signs from government
Brexit, business rates and wages are big areas of concern for operators, but UKHospitalitychief executive Kate Nicholls said there were signs that the government is listening on all three. She was speaking on the day that the rights of EU nationals—who make up a fifth of the sector's workforce—were guaranteed until the end of 2020. "To confirm they have the right to remain is very good news."
Nicholls also reported that the government had committed to a fiscal model on the National Minimum Wage, which brings certainty to wage bill planning. And there is positive movement on business rates, which have hit all retailers hard in recent years. "The government is waking up to the horrors that are happening on the high street."
Confidence is returning…cautiously
CGA vice president Peter Martin kicked off the Conference with findings from the latest CGA Fourth Business Confidence Survey, which reveals that leaders have grown more optimistic about their business' prospects in the last quarter—though they are not quite as confident about the wider market. With the Coffer Peach Business Tracker showing that like for like sales growth is well below inflation, and the risk of restaurant saturation apparent, trading is likely to remain challenging in the second half of 2018, he added. "Confidence is returning… but although people are still going out, it's a really tough market."
Investors want the five P's
Product, property, people, promotion and profit: those are the five big things that investors value in a business, said Jurriaan van der Schee, head of Europe and TMENA at TriSpan. "If you have those five in balance, your investment should be successful."
TriSpan sees all five of them in Rosa's Thai Café, a brand in which it has just acquired a majority stake. Van der Schee also stressed the need to be selective in investment in a very crowded and competitive sector. "It's like a marriage—it's got to feel right and you need to choose your partner very carefully."
Rents need readjusting
Van der Schee was speaking on a Conference investment panel that also tackled the issue of rising rents. With several casual dining operators undergoing CVAs or closing sites lately, the panel agreed that it is time for landlords to think about the rent burden on restaurants. "Landlords want their tenants to succeed," said Mark Sheehan, managing director at Coffer Corporate Leisure. "Rents in many locations will need to come down… we need to be in a position where people can make money."
"Landlords have to be receptive to these conversations [on rent]," agreed Paul Newman, head of leisure and hospitality at RSM. "If you've got a bad site in this market you've got to deal with it sooner rather than later."
Think global, act local
CGA's business unit director Karl Chessell ran through some of the key changes in a fast-evolving out of home eating and drinking market, and said customers' expectations were soaring. "Things that were once seen as exceptional are now seen as normal." To meet those expectations, restaurants and pubs need to combine the macro-management of their brand with the micro-management of local consumer needs, which can vary hugely from town to town. "You need a clear global proposition… but the market is a series of micro-markets."
People prepared to pay for premium
CGA client director Fiona Speakman flagged up the ongoing trend of premiumisation in eating and drinking out, noting that premium drinks categories are comfortably out-performing standard ones at the moment. Consumers don't always seek out the cheapest price, and they are willing to pay extra for a good product and experience, she said. "Value for money is always important… but value for a quality experience is really crucial too."
Operators need to get better at technology
A Future of Finance panel explored how technology is transforming the way consumers interact with brands—but speakers agreed that operators need to get more comfortable with it. "Adoption is far too slow," said Simon Iddon, former CIO at The Restaurant Group.
Siobhan Fagan, IT director at PizzaExpress, added that digital solutions had to be deployed sensibly—"We're using it where it's right, and not just using technology for technology's sake"—and said they could help to recruit and retain teams, too. New tech solutions are constantly emerging to help with everything from marketing to waste management, said Athena Simpson, partner and CMO at Yfood. "It's an incredibly exciting space, and ripe with opportunities for operators."
Invisible payments are coming
The ways in which consumers pay has been revolutionised lately, Barclaycard's business innovation director James McDonald said. "There's been more innovation in payments in the last three years than in the previous 50." The biggest shift has been to contactless payments, of which Barclaycard will process more than two billion this year. McDonald predicted that the next big shift will be towards more 'invisible payments', with Barclaycard trialling innovations like self-scanning in the grab-and-go sector and 'dine-and-dash' pay-by-phone apps.
Still new opportunities for old brands
The final Future of Finance session brought together the heads of two brands with a long history but a more troubled recent past. Burger King UK CEO Alasdair Murdoch said there were big opportunities for his brand to be revived in the UK, especially in the sub-£5 segment and via drive-throughs. Another neglected brand, Strada, has room to grow too, said Sue Walter, CEO of its parent group, Various Eateries. "I'd love to see it become a phoenix rising from the ashes," she said.
Change is the only constant
Despite what some commentators suggest, the late-night sector remains solid, said another member of the panel, Deltic Group CEO Peter Marks. "The sector has changed a lot over the last ten years, but the supply-demand dynamic has settled down… it's a stable market now and we're up for it." But like all operators, Deltic will have to evolve to stay relevant, he added—especially around technology. "You always have to evolve—you can't get away with not changing."