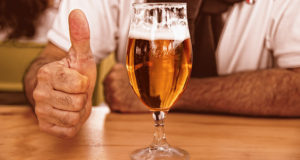 BOOZY work lunches are in danger of becoming a thing of the past, as seven in ten working Brits would no longer DREAM of drinking at lunchtime.
New research has revealed the good old days of wine soaked business lunches on expenses could soon be consigned to the history books, as modern business deals are now more likely to be clinched over a sparkling water and a salad.
In fact according to the data, seven in ten British business people would NEVER drink alcohol at a business lunch, with 23 percent saying their boss simply wouldn't stand for it.
However, a more health conscious half of those polled (46 percent) claimed they prefer to stick to water, as drinking alcohol is just too unhealthy in this day and age.
But the nationwide study of 2,000 business people by Deliveroo for Business also revealed that over half complain they go out for "far fewer" work lunches than they did ten years ago.
In fact, modern Brits have an average of three working "lunches" every six months, whereas ten years ago, we would enjoy as many as five according to the report, with 44 percent saying back in the day they regularly got "tipsy" on a business lunch.
According to the poll, a dry martini to kick off, sitting down to a white table cloth, harmless flirting with clients or colleagues, enjoying a bread basket without worrying about the carbs – and heading back to the office a bit tipsy are among the things we miss most about the boozy lunches of old.
The average business lunch now lasts under one hour, while ten years ago a lunch would last at least two hours or more, according to those polled.
Joe Groves at Deliveroo said "Our own data shows that despite the decline of boozy lunches, offices are now increasingly being treated to Friday afternoon drinks, with alcohol orders to offices increasing 93% on Fridays compared with other week days on Deliveroo".
Other things we miss about the good old days include meeting up with clients face to face rather than over email (39 percent), bonding and building relationships (33 percent), and having a good old gossip (27 percent), while 46 percent said they miss the days of wining and dining clients and colleagues.
According to the survey 45 percent claimed these days would be able to do any work in the afternoon if they went on a boozy lunch, a further 31 percent thought they would get into trouble with their boss.
43 percent said they would no longer be able to put a lunch on expenses, 17 percent admitted they wouldn't even dare to try and claim for a lunch, while 41 percent said they couldn't claim for anything too expensive.
57 percent said some of their best and most lucrative deals were clinched over a boozy lunch, with 62 percent admitting we've lost the fun side of business and client relationships.
20 THINGS WE MISS ABOUT BOOZY WORK LUNCHES
Talking face to face rather than on email
Bonding with clients
A good gossip
Being able to put things on expenses
Harmless flirting with colleagues
Impromptu all day drinking sessions
Hilarious antics
Dessert trolleys
Cheese boards
Going back to the office tipsy
More than three courses
Slagging off the boss
After lunch/dinner chocolates
Bread baskets
White tablecloths
Prawn cocktails
Dessert wine
Silver platters
Brandy with cigars
Dry martinis