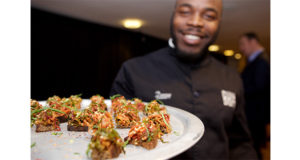 The Clink Charity, which rehabilitates offenders through hospitality training breaking down the cycle of crime by changing attitudes both inside and outside of prison is aiming to double the turnover of its events business to £600,000 in 2019 following the unveiling a new dedicated production kitchen earlier this week.
The charity in partnership with her Majesty's prison and probation service converted a building at her Majesty's prison Downview in Surrey into a central production kitchen for clink events, which is the charity's external events and catering service.
Chris Moore chief executive of the clink charity said "we train up to 24 prisoners at a time in the new central production kitchen. To date the food preparation for external events has been done through the restaurant kitchens. However due to the success of the events, we now need to increase capacity to prepare food for these events across London and the surrounding areas"
Mooresaid he was confident of hitting the target by utilising its existing London venues, including Bakers Hall, Guildhall and Lambeth Palace, and winning new locations.
"The more venues we are listed in, the more prisoners we can train and the more homeless people we can get into work," he said.
The new facility, which underwent a £640,000 two-year renovation, is located in an old storeroom in HMP Downview, which neighbours HMP High Down, in Surrey, the location of one of the four The Clink restaurants currently in operation.
As well as training prisoners up to level 2 City and Guilds NVQ qualification in food safety, food preparation and food and beverage service, the charity also helps them integrate into society and reduces reoffending.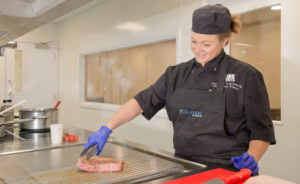 "There are currently 86,000 adults in prison, 82,000 men and 4000 women with a 49% return to prison rate our, training builds their social skills, sense of pride and of team work and encourages trainees to get used to a eight hour day," said Moore. "It's about not taking them so far away from society that they can't get back in."
A study in 2015 showed Clink graduates were 10% less likely to reoffend than prisoners from similar backgrounds who hadn't worked with the charity, said Moore.
The Clink founder Al Crisci, meanwhile, said the charity provided a credible solution to the current hospitality skills shortage.
"Brexit is good for us," he said. "We've got more employers wanting our graduates than we've got graduates. We've recently had two graduates join Royal Lancaster London and one of our graduates is sous chef of Roast in Borough Market.
"When you're employing an ex-offender, you know what you're getting far more than a non-offender and they're often grateful to have been given an opportunity."
"We also give the opportunity for ex-offenders to get work, paid at the going rate, while they are looking for full time employment," said Crisci.
Robin Eldridge, governor of her Majesty's prison Downview said "the creation of the clink production kitchen at Daownview is an exciting development and will further embed the positive partnership which exists between the prison service and the clink charity. The clink production kitchen will offer women the opportunity to learn new skills and in doing so gain industry recognised qualifications. The practice work the women will undertake through The Clink both within the prison and on temporary release, will improve their chances of obtaining paid employment on release and help them make a valuable contribution to their communities"