Equally important as style with any product is substance! And The Hielo® Wine Cooler meets both requirements.
From Manhattan to the Mediterranean the Hielo® wine cooler is a simple and stylish new way to keep wine chilled on any hospitality tabletop, using natural cooling technology that's as simple as it is effective.
The minimal design of the Hielo® is inspired by luxury Manhattan dining – where soaring stone-and-metal skyscrapers touch the blue sky.
Add that to the rich tradition of Mediterranean cultivation that supplies the finest flavours to customers all over the world, and the Hielo® is an elegant marriage of urban sophistication and rustic integrity.
Designed with intelligence Using just 5 ice cubes through thermal conductivity the Hielo® wine cooler maintains a perfect temperature, and at 223mm tall and with an internal diameter of 105mm the Hielo® wine cooler can also accommodate larger and wider bottles such as Bollinger and Laurent-Perrier champagnes.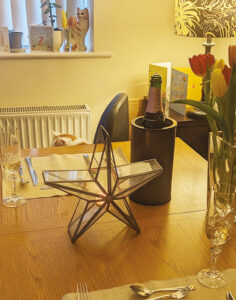 CLH editor Peter trialled one earlier this month on what he refers to as "date night"! And, is delighted to say this really is a fantastic and far superior cooler.
It takes just 5 ice cubes in the bottom to keep the temperature of your wine cooler for longer, or, until you have finished the bottle!
The real advantage is that it is really aesthetically pleasing, modern with that wonderful hint of elegance and "panache", and, clean, and hygienic, without any "drips", no water marks on your table from condensation running down the side. Highly recommended indeed!
And for anyone interested, the menu for the night was:
Panfried scallop with Chorizo and a lemon butter
Paella – Home-made of course!
Orange Caramel Creams: Flan de Naranja
For further details on the The Hielo® Wine Cooler visit www.icecooldesign.com or see the advert on the back cover of this issue