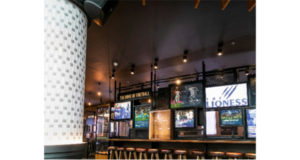 WEMBLEY STADIUM, LONDON, Club Wembley is launching a brand-new exclusive experience at the Home of English Football. Opening ahead of the England v Spain fixture on 8th September, The Lioness pub is a new members-only gastropub at the heart of Wembley Stadium connected by EE.
Situated on the north-west side of the stadium, it is the latest addition to the well-established Club Wembley line-up of exclusive matchday experiences, with the Three Lions and One Twenty launching over the last 12 months and the Centre Circle member's Lounge also launching ahead of England's UEFA Nations League opener against Spain.
With a capacity of 1,000 people (500 seated), The Lioness boasts three bars as well as an innovative self-serve beer station. A unique installation of graphic displays, photographs, trophies, models, and football memorabilia, showcasing some of the greatest Wembley moments sits at the heart of the pub. This installation and The Lioness will also now form part of the Wembley Stadium Tour Experience.
Charlene Nyantekyi at Club Wembley said: "We're really excited to bring The Lioness to Club Wembley especially as its opening coincides with the much talked about return of the England team to the stadium. The Lioness offers our members a less formal approach to matchday hospitality in line with feedback from our existing members for this type of experience. Our attentive team and the interior design ensure a relaxed environment that's available to all Club Wembley Member's making it the perfect space to enjoy a pre or post-match pint with friends or colleagues and make meaningful connections.
"We're committed to the ongoing development of Club Wembley and continue to invest in the experiences members can have, all while enjoying some of the biggest sporting and entertainment events at the stadium. Alongside our more premium Club Wembley offerings such as One Twenty and Bobby Moore, we're confident that The Lioness will prove as popular as our Three Lions pub situated on the opposite side of the stadium."