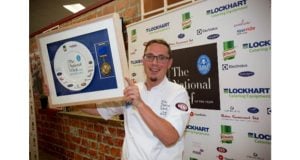 The hospitality industry is one step closer to discovering who will be the next National Chef of the Year (NCOTY) following an in-depth day of deliberating led by chair of judges, Gary Jones, executive head chef at Belmond Le Manoir aux Quat'Saisons. Forty chefs will now put their culinary skills to the test in one of four heats, in the hope they do enough to impress the judges and take a coveted finalist spot.
This year's menu had to consist of the 'Perfect Egg Dish' starter served hot. It had to be suitable for a spring/summer menu and be perfectly balanced. Judges were looking for a beef main course to include two cuts and two cooking methods. The beef must be sourced from the UK and competitors had to indicate the breed of beef, farm sourced from and maturation period. For dessert, chefs needed to create a delicious chocolate tart incorporating or garnished with seasonal fruits.
When whittling down the list from over 100 entries, all 11 expert judges' scores were based on an online form which includes descriptions of dishes, cooking method and photographs of the completed menus. Organisers remove all the chef names, job titles and workplaces, so judges are purely scoring their course on the information submitted. Feedback from the judges showed that overall the menus were some of the best they have ever seen at this stage, with a real understanding of seasonality, provenance and butchery skills highlighting the important relationships that chefs are building with their suppliers.
At the end of the judging session, Gary Jones said: "There were some exciting dishes and flavour combinations and it was fantastic to see some classics approached with an innovative, modern style. With improvements in technology and some brilliant food photography, we got to see plenty of detail at this stage and I am confident our judges are in for a real treat when it comes to tasting. Many of these judges have scored the first round for several years and all commented on the effort that our chefs had gone to, both in terms of thinking creatively and working on their sourcing with suppliers. That's one of the reasons I included two cuts of meat in the main course as I was intrigued to see what chefs brought to the table, but they have truly risen to the challenge of this year's brief."
Organiser of the competition and Vice-President of the Craft Guild of Chefs, David Mulcahy added: "Despite the industry facing challenging times and chefs being busier than ever, it was inspiring to see an increase in entries this year and I completely agree that it's the best set of entries that we've seen at this stage. The National Chef of the Year is growing and developing year on year and continues to be a title that all competitive chefs want to win. However, regardless of who takes the crown, it provides so many opportunities and I hope these 40 chefs grab this chance and enjoy connecting with some of the biggest names in the UK culinary scene."
The final three heats will be completed at Le Cordon Bleu in London on Tuesday, 18th June 2019 with an incredible line-up of chefs including:
Only the winner of each heat will automatically be seeded into the final which takes place on Tuesday 1st October at The Restaurant Show. The final six places are given to the chefs who achieve the next highest scores across all heats. 27 judges are already confirmed to help find the finalists including Lisa Goodwin-Allen, Josh Overington, Alyn Williams, James 'Jocky' Petrie, Hywel Jones, Ben Tish and Stephen Terry.