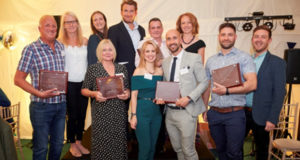 Seven Brakspear licensees were rewarded at the company's 2018 Hospitality Awards, each receiving a £500 cheque and plaque for display in their pub.
The Hospitality Awards, now in their sixth year, recognise tenants who have excelled either in one area of their business, or demonstrated across-the-board achievement.  Sales growth, mystery customer scores and Tripadvisor reports are all factored into the judging process, which includes independent judges in a number of categories.
This year's Hospitality Award winners were:
Best Newcomers: David Thompson, Belgian Arms, Holyport near Maidenhead
Best Kept Cellar: Nigel & Julia Rainbow, Three Horseshoes, Henley
Best Business Builder: Vanessa Cooke & Katrena Derricourt-Gibson, Catherine Wheel, Goring-on-Thames
Best Garden: Andrew & Jacqueline James, Prince of Wales, Caversham
Best Sunday Roast: Hendrik & Julie Dutson-Steinfeld White Horse, Kings Sutton near Banbury
Best All-Rounder: Mark Dunlop, Angel on the Bridge, Henley
Best Fundraiser: a new award this year, presented to Mark & Sandra Duggan at the Chequers in Berrick Salome, Oxfordshire. (Instead of a cheque, they received an overnight VIP trip to Chase Distillery's Verzon House Hotel in Herefordshire).
Chief executive Tom Davies said, "The Hospitality Awards are a fun evening for all the tenants, head office team members and suppliers who join us, but the process of choosing our winners is something we take seriously; all nominations are reviewed thoroughly and there's always healthy debate among the judges about who should win.
"Every year, judging the awards reminds us of how many talented tenants we have running our pubs. Tonight's winners should be very proud of their success and we know they'll be celebrating again when back in their pub, thanking the teams who have helped them to take the top prizes."