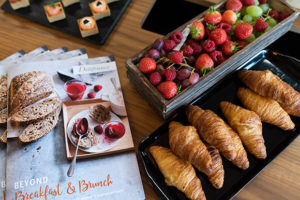 Beyond Breakfast and Brunch, a new report from Délifrance, has revealed the UK's hottest trends in breakfast and brunch, lifting the lid on what consumers really want when eating out of home.
The nation is now swinging towards breakfast and brunch as social occasions (40%), but is divided on whether indulgence (23%) or health (22%) is the main consideration when choosing what to eat.
Convenience drives 48% of those polled in deciding why to eat breakfast out of home, closely followed by 40% viewing it as a social activity, and 40% because it's a luxury.
Stéphanie Brillouet, marketing director – Northern Europe & North America, Délifrance says: "In Britain, the breakfast market is worth £11.6 billion[1], and is predicted to grow 5% by 2019[2]. We've dug deeper into the trend, looking at what customers have come to expect from their breakfast and brunch out of the home, be it from a supermarket's grab & go shelf, or a sit down brunch with friends.
"Our new report – Beyond Breakfast & Brunch – summarises the findings of our research, and shares consumer insights to help operators maximise their offer and capitalise on changing consumer expectations."
Beyond Breakfast and Brunch includes the findings from a survey of 2,000 UK consumers and commentary from food anthropologist and writer Bee Farrell.
Bee Farrell says: "The role food, and specific meals, play in people's lives, and how it changes over time has always been a really interesting area to explore. It can tell us a lot about society – from a food's place in a family routine, to the types of food we typically eat, and how eating has developed into a social occasion. Breakfast and brunch are particularly exciting just now and Délifrance's new report gives a snapshot of consumer behaviour today."