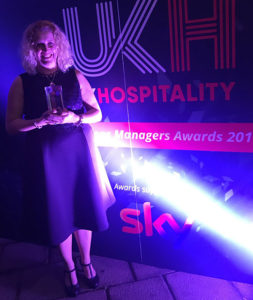 UKHospitality is delighted to announce the winners of its 2018 Operations Managers Awards.
The winners were announced at a gala ceremony at the Pullman Hotel, London following a comprehensive mentoring process and a thorough three day Masterclass testing the finalists' passion and skill.
The Operations Managers Awards, the only awards of its kind in hospitality, continues the twenty-year tradition of the ALMR Operations Managers Awards and identifies the best and brightest during an exhaustive seven-month process.
This year's winners are:
Area Manager of the Year: Paul Dutnall, ETM Group
Business Development Manager of the Year: Anna Clissold, Admiral Taverns
Rising Star: Kyle Gunn, Mitchells and Butlers
The judges also awarded a Highly Commended to Lorna Willoughby of Star Pubs and Bars.
Operations Managers Awards founder Nick Bish said: "The 2018 Operations Managers Awards was, as ever, fiercely contested. The standard among our Finalists was extremely high and our winners have proven their dedication, skill and passion for hospitality.
"The final decision was extremely close and all of our judges were incredibly impressed by the quality across the group of Finalists. I'd like to thank our hardworking Finalists and our team of judges who have thrown themselves head-first into the Awards and underlined how important they are for identifying and celebrating the best individuals at the cutting edge of our industry."
UKHospitality Chief Executive Kate Nicholls said: "The hospitality sector is a hotbed of ingenuity and passion, and we are home to some of the most ambitious and creative leaders in the UK. The Operations Managers Awards is a fantastic way to showcase the immense talent within the sector and recognise the crucial work underway across the UK.
"Congratulations to this year's winners and all of this year's finalists, not only for their success in this year's Awards, but for the great work they do every day."
Commenting Anna Clissold, BDM for Hampshire at Admiral Taverns said:
"I am absolutely delighted to have received this accolade and would like to thank the entire team at UK Hospitality for this incredible honour.
I'm passionate about this industry. I have a great team behind me here at Admiral and the dedication and entrepreneurialism that I see day to day from the licensees I work with is truly inspiring. I have taken so much from this intensive judging process which I hope will enable me to shape my own development and continue to give my licensees and our pubs, the very best support that I can offer."
Commenting, Kevin Georgel, CEO of Admiral Taverns said:
"The UK Hospitality Awards shine a light on the best operations talent in our industry. Our BDMs play a crucial role in our unique approach here at Admiral and we are so proud to have our very own Anna Clissold deservedly recognised as 'best in class' in the field.
"Anna's dedication and passion is relentless. She draws on a wealth of experience that she has gathered over the course of her 16 years in the trade, as a champion for her licensees and the authentic community pubs that they run. Well done Anna from us all here at Admiral.'