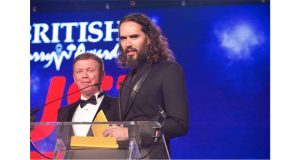 Industry sector's most coveted awards presented amid continued uncertainty Around Brexit and Future of the industry
The UK's leading curry restaurateurs once again descended on the Capital to attend the jewel in the crown of the UK hospitality sector's annual honours at the 14th British Curry Awards in association with Just Eat on Monday 26th November at Battersea Evolution. The pioneering and foremost celebration of the nation's favourite cuisine once again paid homage to the industry's finest establishments, while the industry continues to face uncertainty about its future.
Hosted by comedian and impersonator Jon Clegg, British Curry Awards, or the 'Curry Oscars' as fondly coined by David Cameron, welcomed a guest list of personalities from the worlds of politics, sport, television, showbiz and entertainment, as well as leading celebrity chefs, restaurant owners and their staff from across the country. In attendance were: comedian, actor, author and activist Russell Brand; MP's Sir Vince Cable, Chris Grayling, Brandon Lewis and Baroness Verma; footballer David Seaman MBE and Frankie Poultney; comedian Hardeep Kohli; The Apprentice contestants Jasmine Kundra, Daniel Elahi and Kurran Pooni; TV personalities Kirsten O'Brien, Nina Myskow and Pat Sharp; singer Patti Boulaye; models India Harl and Ramzan Miah; and DJ Neev Spencer among others.
As the foremost and pioneering celebration of the UK curry industry's achievements, British Curry Awards has become a national institution in its own right and a key fixture on the hospitality industry's calendar. A rigorous selection process to honour the nation's top curry houses was led by the UK public, with the dedicated frequenters of curry houses on the streets of Britain invited to nominate their favourite Asian restaurants and takeaways. The process of public nominations created an authentic list of the nation's most cherished Asian eateries, based on the opinions of local residents, with award winners announced on the night from category shortlists across each UK region.
British Curry Award-winners 2018:
Best Spice Restaurant in Scotland: Light of Bengal, Aberdeen
Best Spice Restaurant in North East: Mumtaz, Bradford
Best Spice Restaurant in North West: Indique, Manchester
Best Spice Restaurant in Midlands: Pushkar, Birmingham
Best Spice Restaurant in Wales: Rasoi Waterfront, Swansea
Best Spice Restaurant in South East: Maliks Restaurant Cookham, Maidenhead
Best Spice Restaurant in South West: Koloshi Indian Restaurant, Charlton Kings, and Cheltenham
Best Spice Restaurant in Central London & City: Baluchi, Tooley Street, SE1
Best Delivery Restaurant/Takeaway: Chilli Tuk Tuk, North Finchley, London N12
Best Casual Dining: Dabbawal High Bridge, Newcastle
Newcomer of the Year: Dishoom, Edinburgh
Inspiration Award: Asha Bhosle
Special Recognition Award: Chef Rezual Karim from Stockholm
As well as recognising industry talent and quality, the British Curry Awards highlighted the continued challenges faced by the curry business. The Asian catering industry is valued at approximately £5 billion. Even so, over the years the industry has witnessed a steep downturn. This decline is largely attributed to the shortage of skilled workers in the hospitality sector, from a lack of talented chefs all the way through to front of house staff. This is due to the UK's stringent immigration policy relating to skilled workers from outside the EU, coupled with a palpable sense of disinterest among younger people or job seekers with regard to the hospitality sector.
British Curry Awards Founder, Enam Ali MBE, says, "It's with immense pride that we continue to honour the achievements of the UK curry industry while paying respect to the innovations and entrepreneurship of the first generation of curry restaurateurs in the UK, who paved the way for future generations and introduced now iconic culinary innovations such as the poppadum with chutney, that have gone on to become a classic for every UK diner's palette. Fast-forward to today and staff shortages mean many of us are struggling to meet customer expectations, and it is almost impossible to expand as we would like to. I hope the government will rectify this situation by making Britain an example of fairness through equality. This may sound very pro-immigration but, in fact, I believe that the control of immigration for any country is very important. At least I am privileged that the present government seems willing to help us find a pragmatic solution to the current industry crisis At the same time we, as an industry, are taking all necessary measures domestically, through establishing initiatives that are proactively engaging younger generations with the industry."
Recognising the socio-economic impact of the curry industry on life in Britain, in former attendance at British Curry Awards, Prime Minister, Theresa May herself said, "The British curry industry really is one of Britain's greatest success stories. From that first curry house two hundred years ago has sprung a multi billion pound industry, which is modern, successful and thriving. Through hard work and innovation, you've built a vibrant industry, which generates wealth, promotes growth and employs tens of thousands of people."