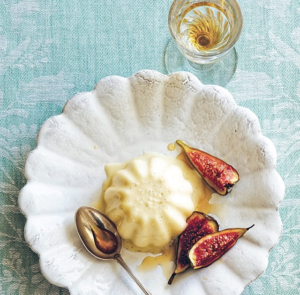 LittlePod's Janet says: "When I was young, my mother used to make this as a soother and reviver after I'd been ill, especially if I'd had a sore throat. The addition of the vanilla livens up what might otherwise be a rather boring pud. Any fruit works well with it, but my favourite is figs and honey."
Ingredients
2 leaves of gelatine
150ml whole milk
300ml double cream
110g caster sugar
A few drops of lemon juice
1 tsp LittlePod Natural Vanilla Paste
4 ripe, fresh figs
1 tbsp honey
1 tbsp cointreau
½ cinnamon stick
6 pink peppercorns
Method
Place the gelatine leaves in a little cold water. Add the lemon to the milk and leave to stand for 10 minutes.
Pour the cream into a pan, add the sugar and stir over a gentle heat until the sugar has dissolved. Once it simmers remove from the heat.
Stir the gelatine into the cream until dissolved. Sieve into a bowl and add the milk and vanilla paste. Divide the mixture between four small bowls or ramekins and refrigerate for at least 4-5 hours.
Meanwhile, preheat the oven to 200°C/Gas mark 6. Quarter the figs and put them on an ovenproof dish with the Cointreau, cinnamon stick and peppercorns. Bake for 20 minutes, or until tender. Stir in the honey and remove the cinnamon stick and peppercorns.
To serve put the ramekins into very hot water and then turn over onto the serving dish. Serve with the baked figs.