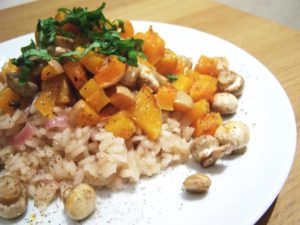 This delicious risotto is from Harriet's LittlePod diet blog and makes a perfect speedy and healthy week night dinner.
Ingredients:
400g aborrio risotto rice
2 tsp butter
1 glass white wine
1 tsp LittlePod vanilla paste
1 pint of chicken stock
1 tbsp olive oil
1 red onion
3 cloves of garlic
1 butternut squash
1 pack button mushrooms
a few basil leaves
pepper & salt (to taste)
Method:
Chop (and peel if desired – we like the added texture of the skin) the butternut squash into cubes into approx 1cm squares, dice the onion and garlic and drizzle with olive oil in a large roasting dish. Place in a mid to high oven, keeping an eye on it. You want them to be soft all the way through and brown. (If it's ready before the rice is cooked – see step 2- just turn the temperature down and keep warm. Add the mushrooms about 5-10 min before the rice is ready. Don't worry if you get the timing wrong! Both elements will be fine keeping warm for a bit.
Once the veg is in the oven, put a large pan (a non-stick frying pan with big sides or a wok would do) over a mid range heat and add 1 tsp of the butter. Once it has melted, add the rice and fry for a minute. You don't want it to go brown, just a bit translucent. Then add the wine and the LittlePod vanilla paste and watch it bubble, stirring well. Once the liquid has all but evaporated, start adding the stock, a ladle at a time, stirring regularly as you don't want it to stick to the bottom of the pan. It should take about 20min for the rice to absorb all the stock and to lose it's bite, test it after 20min and give it some water if it's not soft all the way through. Once it is, turn the heat off, add the extra tsp of butter and let it rest of a minute with a lid on the pan. Trust me, this will make it extra yummy! Add pepper and salt to taste. Remember that stock can be quite salty anyway, so don't go over the top.
To serve, plate up the rice and top with the roasted veg. Chop some basil leaves up and put on top. Some freshly grated/pared parmesan is perfect with it!