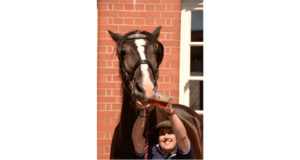 The Wadworth shire horses have gone on their well-deserved holiday to a Wiltshire farm this week.  The break comes after an event filled summer where they walked away with no less than 10 prizes and delivered beer in and around Devizes 300 times.
Max, Archie and Sam who are stabled at the independent family brewery in Devizes are a real attraction in the town where they are seen daily trotting around with beer deliveries.  They will spend over 2 weeks grazing and galloping to their hearts content.
CEO for Wadworth, Chris Welham said, "Everyone loves seeing our shires as they deliver to our pubs and at events, but like everyone, they deserve a good break and hopefully will come back suitably refreshed after two weeks of sunshine and grass".