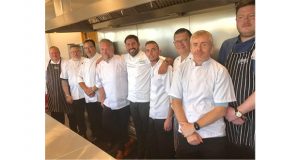 Wadworth's premier chefs competed this week to get their dishes on the independent pub company's Best of the Best menu.
The Wiltshire based independent family brewer and pub operator invited chefs to submit their dishes to a panel where they were judged.  The finalists were then invited to the first cook off at the Wadworth development kitchen in Devizes.  Four finalists were then chosen to a final cook off at the prestigious food innovation kitchens at food suppliers Brakes in Reading with guest judge and celebrity chef, Mark Sargeant.
The winning dishes will be served at the Wadworth Best of the Best awards event held at the Bear Hotel, Devizes in November.  The event celebrates and awards the best managers and licensees who operate pubs with Wadworth.
Speaking about the event, CEO for Wadworth, Chris Welham said, "We have some amazing chefs in our pubs and this event recognised their strong talent.  The competition has showcased their ability to create unique and very special dishes which they are able to re-create in our pubs".
The winning chefs and dishes are:
For both Starter and Vegetarian Starter and Vegetable Main Course:
Jake McBride – The Avon Causeway pub, Hurn, Christchurch, Dorset with
Starter: Pink seared tuna, avocado puree, bloody Mary jelly, lime & radish dressing
Vegetarian Starter: Spiced Aubergine with turmeric & coconut sauce, cashew butter & crispy kale
Vegetarian Main Course – Sun blush tomato, pine nut & basil strudel, rainbow carrots, courgettes & heritage tomato puree
For Meat Main Course:
Mark Goodman – The Plough, Sparsholt, Winchester with
Loin of venison, faggot, artichoke puree, roasted shallot & fondant potato with a wild mushroom & Madeira Jus
For Dessert Course:
Chris Moore – The Bird in Hand, Knowl Hill, Reading with
Winter fruit & meringue parfait, berry coulis & caramelised pistachios
Ryan Coates, chef from the Kings Arms in Melksham also made it to the final.
Celebrity chef and judge for the Wadworth competition, Mark Sargeant said, "It was fantastic to see such innovation from the chefs. The calibre was extremely high and it was a difficult choice to identify the winners".