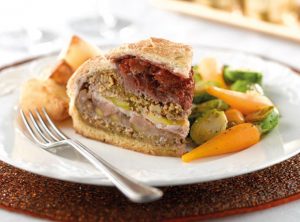 Ingredients:
1 round cob loaf or boule
2 tbsp olive oil
For Spiced Plum Sauce:
10 ripe plums, roughly chopped (use tinned if fresh not available)
6 tbsp full bodied vegetarian red wine (*use vegan red wine)
4 star anise
8 cloves
6 allspice berries
For the Rough Walnut Pate:
2 tbsp olive oil
150g walnuts
1 shallot, peeled and
finely chopped
1 stick celery, finely chopped
1 clove garlic crushed
50g of the bread from hollowed out loaf
10g Flat leaf (Italian) parsley
1 chilli – deseeded (optional)
1 tbsp soya sauce
150g vegetarian brie or camembert (*do not use for vegan cob)
Method:
1. Preheat oven to 180C.
2. To hollow out cob loaf: place cob loaf on its side and cut off a lid. Using your hands hollow out centre leaving just a little bread on the crust – do the same for the lid. Reserve 50g of the bread for later. Brush inside of hollowed out loaf and lid with olive oil.
3. For spiced plum sauce: Place all ingredients in medium pan and cook on low heat until plums have softened – you may need to add a little water to prevent plums sticking – the end mixture should be soft and moist (not wet). Remove spices and discard. Allow sauce to cool.
4. For walnut pate: sauté both the shallot and celery in oil until soft. Add the garlic and sauté for further 2 minutes.
5. Add remaining ingredients (except 50g of walnuts) to a food processor and process until walnut mixture comes together but is still rough and not quite a paste. Roughly chop remaining 50g of walnuts and add to mixture.
7. To assemble and cook: Divide the walnut pate in half and place one half in bottom of hollowed out cob loaf ensuring mixture goes right into edges. Press down well.
8. Spoon half the plum sauce on top, then add slices of cheese (*omit for vegan recipe). Top this with the remaining walnut pate and lastly the rest of the plum sauce. Press down well. Place the bread lid back on top.
9. Wrap whole loaf in tin foil and bake in oven for 1 hour – to test if the loaf is ready, take out of oven remove the lid and place a knife in the centre. If the knife comes out very hot the loaf is ready.
10. Allow to stand for a few minutes before cutting into wedges.