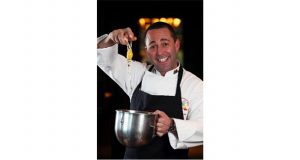 Foodies are in for a treat on Bonfire Night when chefs from Culinary Team Wales are promising to deliver some gastronomic fireworks of their own at the Celtic Manor Resort, Newport.
In their final rehearsal before they compete in the Culinary World Cup in Luxembourg at the end of November, the chefs will be cooking their hot kitchen menu featuring three exciting dishes.
The menu includes a starter of scallops, ceviche, compressed cucumber, Café de Paris, chicken skin granola seawater and sea herbs. Main course is hay-smoked loin of Welsh Lamb, lamb tagine, almond puree, pearl couscous and apricots. Dessert is white chocolate and lemon mousse with Welsh honey, raspberries, raspberry sorbet and mint.
The three-course dinner can be booked for £30 and restaurant reservations are available from 7pm to 9pm. Foodies wishing to judge the dishes themselves can book a place by contacting the Culinary Association of Wales on Tel: 01938 578528 or email: office@welshculinaryassociation.com .
The team is captained by Danny Burke, co-owner of Olive Tree Catering, Runcorn. His teammates are Toby Beevers of PSL Purchasing Systems, who is also team manager, Jason Hughes of Chateau Rhianfa, Menai Bridge, Sergio Cinotti, who runs the award-winning Gemelli Restaurant in Newport, Alun Davies, former captain of the Combined Services and RAF culinary teams who is based in Winchester and Alys Evans, an award-winning patisserie chef from Gilfach Goch.
"It's a new team but we have made good progress and seem to be settling at the right time," said Burke. "The latest practice in North Wales could not have gone any smoother and the feedback from diners was good.
"I think it's one of the best menus the team has developed since I have been involved and this will be my fifth Culinary World Cup. The scallop starter is full of flavour and was the dish that Jason Hughes cooked for the Great British Menu and received a mark of nine out of 10.
He praised the contribution of 20-year-old Alys, who will be making her international debut in Luxembourg. "Alys is driven, mature beyond her years and sets a good example to both the senior and junior chefs," said Burke.
"She has shown that with hard work and dedication young chefs can reach their goals. It's very pleasing to have her in the team to show the progression."
Looking to improve on the last two competitions, where Wales won bronze medals in both the hot kitchen and cold buffet display, Burke is hoping for at least silver and bronze medals.
"If we work well as a team and deliver the dishes as I know we can, then we are going to be pushing for a gold medal in the hot kitchen," he predicted.