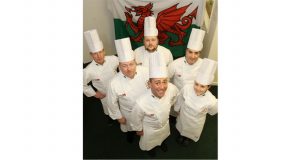 Chefs from Culinary Team Wales completed their Culinary World Cup campaign in Luxembourg this week by securing a silver medal in the hot kitchen to add to the bronze they won for culinary art on Sunday.
Having competed against the world's best culinary teams, the Welsh chefs were praised by Culinary Association of Wales president Arwyn Watkins, OBE, who said they had made many friends at the event.
"This is a team in development and to come to the Culinary World Cup and win silver and bronze medals is a phenomenal achievement and shows how much progress they have made," he said.
"They were up against national teams that have been together for up to eight years. No gold medals were awarded in the hot kitchen yesterday, which tells you everything about the high standard of the competition.
"England and Scotland also won silver medals in the hot kitchen but as the home nations improve our standards, the Scandinavian countries and Singapore raise the benchmark again.
"We have had excellent feedback from other nations about the Welsh team's efficiency and working practices in the kitchen."
Team captain Danny Burke, co-owner of Olive Tree Catering, Runcorn, said he would have loved to have won a gold medal but was satisfied with silver in the hot kitchen and the chefs had gained valuable competition experience.
"A silver medal is a massive achievement for this inexperienced team and it's a step in the right direction," he added. "We have been working together for 18 months and it's been a nice, relaxed team to be around.
"The feedback from the judges was that our dishes, whilst being flavoursome, lacked a bit skill but our working practices and hygiene were spot on, which gives us a platform to build on.
"We really enjoyed being in the hot kitchen yesterday and other team managers commented about how well we worked together. Everyone did what they needed to do and they deserve their silver medal."
He revealed that it was his last competition with the senior team, as he plans to step down to assist Wales' junior team coach Michael Evans as a mentor. His mission is to encourage progression from the junior to senior team.