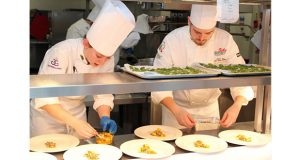 Chefs from Wales, Belgium and Austria will put their culinary skills to the test when they compete in the Battle for the Dragon contest at the Welsh International Culinary Championships (WICC) in February, 2019.
Culinary Association of Wales (CAW) president Arwyn Watkins has confirmed that Wales will be represented by a team from the Celtic Manor Resort, Newport led by executive head chef Michael Bates.
Belgium will be sending its national junior team, which competes in the Culinary World Cup in Luxembourg in November, while Austria will be represented by a regional team. The winners will receive the coveted Dragon Trophy.
The invitation to Belgium follows a fact-finding visit by a representative of the country's national culinary team to the 2018 WICC to experience the Battle for the Dragon contest first hand.
The WICC are held at Grŵp Llandrillo Menai, Rhos-on-Sea from February 26-28 and include the National and Junior Chef of Wales finals on the last day.
Wales will be first into the kitchen on February 26, followed by Belgium on February 27 and Austria on February 28. They will each cook a three-course menu for 90 people under the supervision of a panel of international chef judges.
Fine dining fans will get a chance to have front row seats and sample the dishes served up by the international chefs by booking their place at one or all three of the lunches, which cost £26 each. Tickets may be booked with Vicky Watkins at the CAW  on office@walesculinaryassociation.com .
"This is a great opportunity for the three teams to compete to Worldchefs standards and receive feedback on their dishes from very experienced judges," said Mr Watkins. "It's also an excellent testbed for up-and-coming chefs to be considered by their national teams.
"In addition, the Battle for the Dragon contest exposes international chefs to quality Welsh food and drink products."