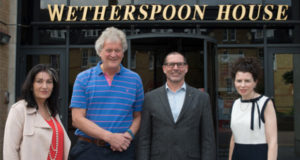 Representatives from the Traveller Movement and the Equality and Human Rights Commission (EHRC) visited Wetherspoon's head office as part of its on-going campaign to raise awareness of the discrimination Irish Travellers and Gypsies still face in accessing pubs, bars and restaurants.
This is despite their protected status under the Equality Act.
A presentation was given to the company's senior management which drew attention to the day to day difficulties encountered by members of the Traveller and Gypsy community to the extent that many feel it necessary to hide their background.
Wetherspoon's chairman, Tim Martin, said: "We were pleased to welcome representatives from the Traveller Movement and Equality and Human Rights Commission at our head office.
"We have been working closely with the EHRC and Traveller Movement in developing our employee training on this issue and support the campaign."
Traveller Movement equality and social justice unit manager, Jim Davies, said: " Being refused entry or service is a problem which blights the lives of Gypsy and Traveller people throughout the country.
"This form of discrimination should not be tolerated in any civilised society, so it is heartening to see that an industry leader such as Wetherspoon is taking such a positive stance on the matter.
"The Traveller Movement commends Wetherspoon for their efforts in raising awareness of this issue."