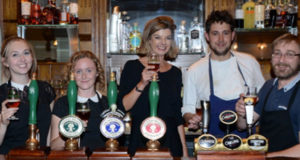 Cask ale week is back and is running from September 20-September 30. Organised by Cask Marque cask ale week celebrates the nation's favourite tipple encouraging consumers to visit their local!
During last year's Cask Ale Week loads of pubs, breweries and CAMRA branches got involved – with lots of new beers tasted, festivals visited, free pints redeemed and plenty of competitions won. And that's just a part of it!
If you weren't part of it, you missed out on a great opportunity.
If you're looking for ideas, take a look at what some breweries, pubcos and pubs did last year – and create your own twist on it for your own business for Cask Ale Week 2018.
Bingley brewery launched a new bar to coincide with Cask Ale Week. The launch event included guest beers from 3 other Yorkshire Breweries as well as food from the local Peacock Bar in Bradford which created a mini beer festival style opening.
Brakspear paired up with The Chilterns Walking Festival, and hosted a guided walk in the attractive hills of Henley on Thames. The 7 mile thirst-creator finished with a free tour of the Bell Street Brewery in the Bull, led by the head brewer and assistant brewer.
Punch pubs hosted a selection of pub quiz nights throughout the Week. They continued with their 'try before you buy' offer on any cask ales
Brighton and Hove's first micropub, The Watchmaker's Arms, held a Home Brew competition. The winner spent the day with Jack (Beercraft Brighton) brewing their winning beer which was served at The Watchmaker's.
If you brew, serve or drink cask ale, you have a vested interest in creating some razzmatazz around the Week! For further details, tips and aideas visit www.caskaleweek.co.uk