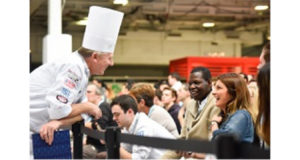 The Restaurant Show 2018 is shaping up to be a real celebration of the hospitality industry, with big names, exciting culinary battles and insight-packed live sessions. On top of that, there's the chance to immerse yourself in the latest new products from over 450 suppliers across The Restaurant Show, Bar & Pub and Catering Equipment Expo.
Top tips from trail-blazers
The live stage will see some well-known industry names at the top of their game talking through their journey so far. This includes the opportunity to hear from trail-blazing chef Tom Kerridge, who's currently out to crack the capital with his new restaurant dedicated to outstanding British cuisine.
There will be another fantastic opportunity to pick up some valuable industry insights when Daniel Clifford, Chef Patron of Midsummer House takes to the stage at the show. Don't miss the chance to discover the real story behind the dishes that made Midsummer House.
Business boosting insights
This year's show features a range of sessions aimed at helping you grow your business. Open Table will be joined by a series of expert panellists throughout the show to answer your burning questions and debate the issues that matter, including getting a slice of the global market and amplifying your communications.
If you want to get ahead of the curve, the Trend Watching sessions from MCA Foodservice, the industry's leading intelligence and insight provider, are not to be missed.
Taste sensations
There will be plenty to whet your appetite at the show, from sake tastings and Japanese food pairings, to wine tastings with Master of Wine, Peter McCombie.
There's also a masterclass in cheese to enjoy, with cheese writer Patrick McGuigan and Matthew Carver from The Cheese Restaurant in Camden.
Save room to sample the best from the many food & drink producers exhibiting at the show too. Here you'll find everything from charcuterie to chocolate, coffee to craft beer – all under one roof.
See the best put to the test
Seeing the industry's rising stars battle it out in the kitchen has always played a key part of The Restaurant Show's electric atmosphere. One to watch is The Copa Jerez final on Monday 1st October. This high-profile international competition sees teams of chefs and sommeliers meet to create the perfect marriage between modern cooking and centuries-old wine.
Several other top culinary competitions take place too, including National Chef of the Year, The Kikkoman Masters and Compass Chef of The Year.
More to be revealed
Listen out for further announcements from The Restaurant Show as more industry names, innovative sessions and interesting suppliers are revealed. For more information and to register for free click here.