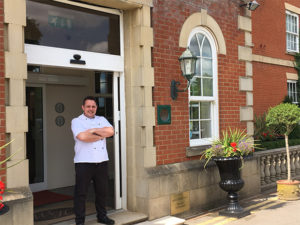 Northamptonshire-based hotel Whittlebury Hall has announced the appointment of its new executive chef, Lee Scott.
Lee brings 25 years' worth of industry experience with him cooking for some of the world's most famous celebrities, from Mick Hucknell to Tom Cruise and most discerning diners during his time as head chef under Gordon Ramsey at the Savoy Grill. He has not had to travel far for this latest position and is on familiar ground as he joins Whittlebury from his previous role as group executive chef at Silverstone Hospitality Group.
Lee's career has also included time as group development chef at Selfridges, as well as holding the position of executive chef at Ambienza Ltd Group where he secured three AA rosettes for the restaurant at Cotswolds 88 Hotel.
"I'm excited about this latest challenge," said Lee. "Whittlebury Hall offers such scope for a chef interested in both intimate and large-scale banquet dining."
Lee joins the expanding team of talented chefs at the four-star establishment and will work alongside award-winning head chef Harvey Lockwood, who runs Whittlebury's two AA Rosette restaurant, Murrays. The hotel's flagship restaurant has recently been refurbished and offers guests fine-dining cuisine showcasing the best Northamptonshire and British ingredients.
Operations director of Whittlebury Hall, Bernhard Zechner said: "We are delighted to welcome Lee to the team here at Whittlebury Hall. Lee brings extensive industry experience with him having worked in some spectacular restaurants during his career."