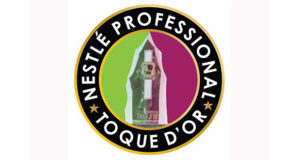 The winners of Nestlé Professional's® prestigious Toque d'Or® competition will this week cook for a host of hospitality VIPs as part of their coveted competition prize.
Having successfully beat off competition from 80 college teams and 170 apprentices in the 30th annual nationwide challenge, this year's lucky winners will cook with respected Chef James Tanner at his Queen Anne Kitchen at Royal Ascot. Furthermore, they will spend a day working with Chef Adam Bateman, to deliver a fine dining experience at the newly opened Principle Hotel in Bloomsbury, for leading hospitality members of The Directors Club.
Andrej Prokes, Chef Consultant at Nestlé Professional said: "Since the competition began 30 years ago, it has gained significant recognition from the industry and has become one of the UK's most influential training and development programs. Seeing the chefs learn and develop their skills throughout the competition is quite incredible, and Toque d'Or gives them an impressive award to add to their CVs as it's an accolade they can be truly proud of. It's amazing to see how the unique 'money can't buy' experiences offered to contestants can set them up and pave the way for the future stars of our industry."
The winners of Toque d'Or® 2018 were announced at The Dorchester Hotel in London on 11th June at an awards lunch attended by 300 guests from the industry. The City of Glasgow College took home the trophy for the College Competition with Antonia Macfarlane (front of house), Alan Martin (chef) and Rebecca Ward (chef) making up the winning team. Mateusz Hnatowski of Restaurant Associates took the top spot in the Apprentice Competition.
The awards lunch marked the fifth and last day of the competition's Grand Finals which featured a series of catering and hospitality-based challenges designed to test different skills essential for pursuing a career in the hospitality industry. The challenges included:
Visits to Billingsgate Fish and Smithfield Meat markets to learn about sourcing and species identification
Learning to run and work in a customer-facing restaurant with Las Iguanas
A wine course and exam at the Wine and Spirits Education Trust
Planning, preparing and serving a three-course Cordon Bleu menu and wine accompaniments for 110 people in Searcys at the Gherkin in London
Mateusz Hnatowski of Restaurant Associates, winner of the Apprentice Award said: "It's such an honour to win this award. After putting so much into this experience it's great to be able to walk away with such an impressive achievement to add to my CV. I'm already seeing the benefits of winning the Apprentice Award, and I can't wait to experience our prizes which involve cooking for some of the industry's best."
In addition to this week's aspirational cooking prizes, the winners of Toque d'Or 2018® will also receive:
A place on the Canapés and Wine Pairing course at Le Cordon Bleu
Tutoring with Springboard to participate in the FutureChef programme
1-on-1 professional mentoring from CH&Co
Tickets to any Merlin site
WSET Level 2 Award training in Wines and Spirits