The winners of the Independent Hotel Show Awards, in association with Sky – Independent Hotelier and Outstanding New Hotel – were announced last night at the Independent Hotel Show, Olympia.
Nominations were shortlisted by a committee of hoteliers, journalists and thought-leaders* and votes cast by the industry.
Independent Hotelier- recognises the passion of an independent, spirited hotelier, who has made a significant contribution to the industry over the past year. The individual has a reputation for pushing boundaries, creating exceptional guest experiences and driving the luxury boutique hotel sector forwards with creativity and wisdom, as well as being committed to developing their team.
Winner – Adam Rowledge, Georgian House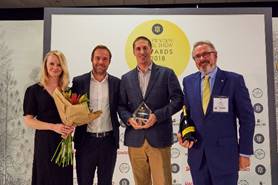 L-R Emily Challis, HIS, James Tweddle, Sky, Adam Rowledge, Georgian House and Peter Hancock, Pride of Britain
Adam says: "I'm honoured to win, especially as the shortlist was made up of so many amazing hoteliers. I'm blown away by all the support from the industry and couldn't have done this without my team and Serena von der Heyde, who have given me the opportunity to do the things that have allowed me to be recognised by the industry."
Outstanding New Hotel Award – celebrates an independent hotel that brings dynamism and coveted ideas to the sector and has been operating for no more than three years. A game-changer with a unique style, the hotel has influenced attitudes within the sector, whilst providing exemplary service and amazing guest experiences, as well as demonstrating remarkable business efficiency.
Winner – Another Place, The Lake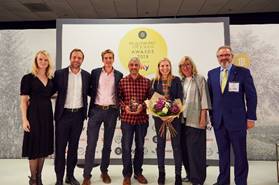 L-R Emily Challis, HIS, James Tweddle, Sky, Will Ashworth and team from Another Place, The Lake and Peter Hancock, Pride of Britain
Will Ashworth, CEO, Another Place, The Lake says: "It was quite an undertaking to open our first hotel within the Another Place collection on the shores of Ullswater, just over a year ago. Our team in The Lake has worked very hard to make our vision a reality – this award is truly a testament to them all."
James Tweddle, Director – Accommodation at Sky, says: "I was really impressed by the standard of entries into this year's Independent Hotel Show Awards. The passion, hard work and commitment shown by all the nominees in their entries was clear to see. It provided great insight into how far hoteliers go to creating and maintaining a first-class guest experience"
The Independent Hotelier shortlist:
The Outstanding New Hotel shortlist:
*The shortlist judging committee members:
Adam Raphael, Editor, Good Hotel Guide
Charlotte Evans, Group Publishing Director, Condé Nast Johansens
David Noble, Director of Hospitality & Leisure, James Hallam Insurance Brokers, Independent Hotel Show sponsor
Fiona Duncan, The Telegraph & Sunday Telegraph
James Tweddle, Director – Accommodation, Sky, the Independent Hotel Show Awards partner
Janet Harmer, Hotels Editor, The Caterer
Peter Hancock, Chief Executive, Pride of Britain Hotels
Simon Numphud, Managing Director, AA Hotel & Hospitality Services
Zoe Monk, Editor, Boutique Hotelier

The Independent Hotel Show is taking place at Olympia on 16 and 17 October 2018 for the seventh time, showcasing the finest of Britain's independent, luxury and boutique hotel sector. The show is hosting an extensive array of seminars, workshops and key note sessions on its dedicated stages, and providing great networking opportunities with industry experts.