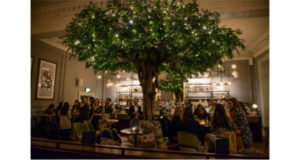 The warm weather and the World Cup has helped Marston's increase like-for-like sales in managed and franchised pubs, however the food-led destination and premium sites have suffered.
Managed and franchised pub sales were up 5.2% in the 42 weeks to 21 July 2018, thanks largely to the groups expansion program, combined with like-for-like sales growth of 0.3%.
The period was significantly boosted by the most recent 16 weeks, in which like-for-like sales were up 0.9%, helped by good weather and the football.
In destination and premium sites like-for-like sales were 1.5% behind 2017, while in taverns, managed and franchised like-for-like sales were 3.8% ahead of last year, thanks to customers making use of outside areas to enjoy the good weather.
Marston's said that it remained on track to meet its openings growth targets of 15 pub restaurants and bars and six lodges in the current financial year.
Chief executive Ralph Findlay said: "We are encouraged by our stronger trading performance in the second half-year, including the benefit of recent good weather and the impact of the World Cup in our Taverns estate and in Marston's Beer Company.
"We have a strong pipeline of sites which will contribute to continued growth in pubs, and see further opportunity in brewing following the acquisition and successful integration of Charles Wells Brewing and Beer business in 2017. Our strategic objectives and progressive dividend policy remain appropriate for current market conditions and we remain confident of delivering underlying earnings in line with expectations for the full year."