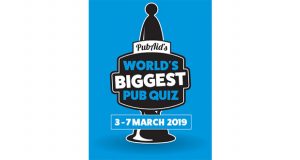 PubAid, the organisation created to celebrate the fantastic work UK pubs do in raising more than £100m for charity every year, is urging pubs, bars and clubs to sign up for next year's World's Biggest Pub Quiz. The event will take place from 3 to 7 March, with participating venues sent a quiz pack, posters and social media assets.
he World's Biggest Pub Quiz was set up by PubAid in 2016, and is being delivered in 2019 in partnership with Prostate Cancer UK . The pub industry and everyone interested in hosting or attending a quiz, will be asked to take part in the World's Biggest Pub Quiz and raise money for great causes.
Pubs are encouraged to raise money for their chosen charity, but also to consider supporting Prostate Cancer UK.
Since the 2016 launch the quiz has grown in size and popularity raising £405,000 to date. This year 1,500 pubs took part, raising £190,000.
PubAid co-founder Des O'Flanagan said: "We are grateful to all the pubs, brewers and pub groups who have supported the World's Biggest Pub Quiz and we're confident even more will take part in 2019. It would be great to see more than 2,000 pubs run the quiz and raise more than £250,000."
Organisers said events could take place outside the 3 to 7 March window, with each pub free to choose their own good cause or official charity partner Prostate Cancer UK.
For further details visit http://worldsbiggestquiz.pubaid.com/img/misc/home_logo_new.jpg