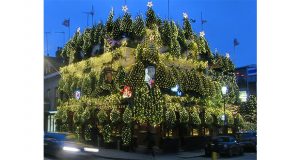 Is the Churchills Arms in Kensington West London Britain's most festive Pub?
If not, then it is going to be pretty hard to beat.
The Fullers owned pub boasts over 21,000 lights and over 90 Christmas trees, and has become world famous the for its beautiful displays .
The pub has just announced on Instagram "Christmas has arrived here with all our Christmas trees and Christmas lights lit up, join us for the most amazing festive scene, looking forward to seeing you all soon"
Jelly the story The pub is estimated to spend a staggering £30,000 on decorations each year,
Manager Jame Keogh said "it just grew and grew, we love it so much it was hard to stop"!