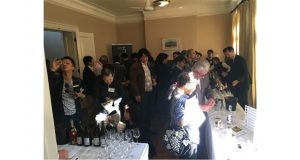 The Wine and Spirit Trade Association (WSTA) led a mission of Great British gins and fine English wines to Tokyo this week to showcase the quality of a British export products and to boost exports.
The WSTA arranged for producers to show a range of British gins and English wines in Tokyo over 3 days (27th – 29th November) to capitalise on the increase thirst for British produce overseas.
Over the two tasting days four English sparkling wines and products from ten different gin distillers were showcased to a full range of buyers, importers, journalists and influencers – all of whom were keen to quench their thirst for all things 'Brand Britain'.
The WSTA's second foray into the Japanese market comes on the back of HMRC figures released earlier this year showing UK gin exports for 2017 broke the £500 million barrier for the first time, reaching a record breaking £530 million.
Gin exports to Asia and Oceania totalled £32 million in 2017, with over £7 million worth of British gin going to Japan.
Wine, meanwhile, saw exports total £550 million from the UK, including over £250 million to Asia and Oceania.
Wine exports from the UK to Japan, were worth over £9 million in 2017.
Chief Executive of the Wine and Spirit Trade Association, Miles Beale, said:
"It's been a great few days here in Tokyo. We have been able to work with the British Embassy team to put our great British gins and English wines in front of journalists, buyers and importers – capitalising on the love for 'Brand Britain' overseas.
"The interest shown here is a fantastic boost for the UK drinks industry and a great way to end a successful 2018. This year has proven to be a corking year for English wine, with near perfect growing conditions leading to a record breaking harvest.
"British gin has grown into a global phenomenon and in 2018 we saw sales, both home and abroad, break the £2 billion mark – doubling in value in five years. More and more nations are clamouring for the sought-after spirit with more than 150 countries now importing British gin, making us the world's leading gin exporter.
"We have been proud to share these products and, as we continue to campaign for our government to seal the right Brexit deal, we look forward to greater support to increase British gin and English wine exports to developed markets such as Australia, Japan, China and the US.
"The removal of tariffs would allow Britain to maintain its position as the world's largest spirits exporter and further boost the UK economy, providing more jobs.
"Ambassadors and senior diplomats can start supporting our mission to help British gin and English wine exports grow even further by committing to 'Serve British' at events both home and abroad."
The WSTA has recently held events in embassies in Copenhagen, Tokyo, Madrid and Hong Kong and will hold more events at official residencies overseas in 2019, in a bid to encourage exports and showcase the incredible quality of British gin and English wine."