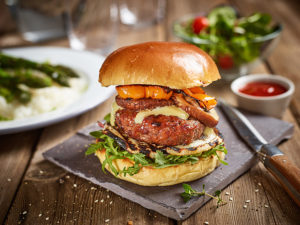 It's the perfect weather for BBQing, but why not take traditional BBQing to the next level with this delicious Japanese-inspired recipe from Yutaka.
Many of the UK's boutique burger restaurants use Yutaka's panko to give their burgers that extra something. We think this loaded burger is as good as any you'll find in the poshest of places.
Makes 6
Ingredients
2 small red onions, finely chopped
2 crushed fat garlic cloves
500g lean minced beef
2 tbsp Yutaka Panko breadcrumbs
1 tbsp Yutaka Organic miso paste
1 tbsp Yutaka BBQ Yakiniku sauce
Salt & pepper
To stack
6 buns
3 tbsp mayonnaise
½ – 1 tsp (depending on taste) Yutaka Wasabi paste
Sliced onion rings
Sliced pepper rings
Whole mushrooms
Salad leaves
Tomato Ketchup
Method
Place onions, garlic, breadcrumbs, meat, pastes and salt and pepper in a food processor until combined.  With wet hands shape 6 burgers, cover and chill.
BBQ burgers (brushed with BBQ sauce), mushrooms, onion rings and peppers until cooked.  Cut burger buns in half and place insides down on BBQ until slightly toasted.  Mix mayonnaise with Wasabi paste.  Slice mushrooms.
Now stack – on half of the bun place some salad leaves, then the burger, onions, peppers, mushrooms top with the Wasabi mayonnaise and put the lid on the burger.  Serve with sushi rice, poached asparagus sprinkled with Yutaka Sesame seeds and green leaves and enjoy!
To find out more about the Yutaka range as well as more great recipes, visit www.yutaka.london