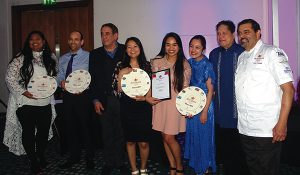 It certainly was a night to remember at the sixth Zest Quest Asia Gala Dinner and Awards Night at the Hilton London Heathrow Airport earlier this month.
The awards, founded by celebrated chefs Cyrus and Pervin Todiwala in collaboration with the Master Chefs of Great Britain has raised the profile of Asian cuisine and cookery immeasurably helping budding British chefs build a future career, and help combat the growing skills shortage in the U.K.'s Asian kitchens.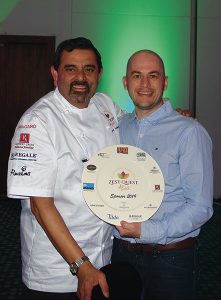 The evening was hosted by BBC Radio 2 food and drink broadcaster Nigel Barden with legendary chef Ken Hom OBE a special guest, and CLH editor Peter Adams was delighted to have been invited by one of the main sponsors and the managing director of Regale Microwave Pat Bray, who unfortunately was forced to miss the evening himself due to the launch in America of his company's revolutionary micro-save cavity liner.
The event was a culmination of a 6-month search for the new Zest Quest Asia champions. Earlier in the day, teams from six colleges competed in a cook-off. The finalist colleges were Colchester Institute, Farnborough College of Technology, New City College, North Hertfordshire College, University of West London, and Westminster Kingsway College.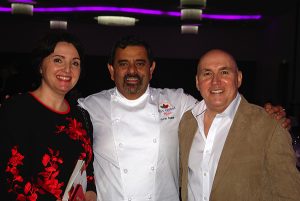 The Gala Dinner and Awards Night "kicked off" with a drinks reception featuring Asian-inspired canapes prepared by students of the University of West London, the current Zest Quest Asia champions, and was followed by a tantalising 5-course Goan-influenced dinner created by Zest Quest Asia founder, Cyrus Todiwala OBE DL, assisted by chef friends and highlighting local British produce.
Following an evening of fantastic food wine and beers not to mention some insightful and entertaining speeches we all sat with bated breath waiting for the most important part of the evening the awards ceremony!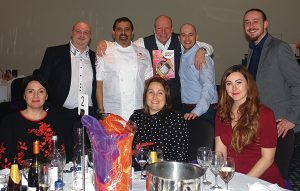 With some fantastic prizes from competition sponsors which saw Farnborough College win a fantastic three day tour in Holland courtesy of Koppert Cress for the best live ingredient toward, and Westminster Kingsway College win the Chefi Knife roll for minimum food waste, the winners were announced and it is a big
congratulations to University of West London the 2019 Zest Quest Asia winners, who win a fantastic and exciting culinary visit to Manila where they will visit Manila's new Asian cookery centre.
Wonderful evening with a big thank you to the sponsors and a special thank you from CLH News to Pat Bray MD of Regal Microwaves, his sales and logistics manager Christopher Matkin, and wife Sophie for the kind invitation and wonderful hospitality on the night!