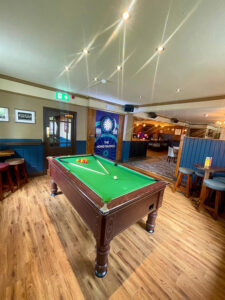 The Honeysuckle on Pool Street in Wigan, re-opened on Thursday 4th May following a major investment of £180,000!
The pub is part of the Proper Pubs division at Admiral Taverns and has undergone a complete transformation with a new look and feel, including a new bar, brand-new furniture, and an entire redecoration to ensure a welcoming look and feel. Whilst outside in its beautiful open beer garden, a shelter has been installed over the decking area to ensure use all year round.
For opening night, customers enjoyed live music from singer, Tom Byrom, whilst the weekend ahead includes live sports and Karaoke.
Operator of the Honeysuckle, Tara Wade, said: "Opening night was fantastic, it was amazing to see all our customers, old and new, coming to see what the pub has to offer!
"The feedback we received from our community was amazing, and we can't wait to see them again soon!"
The Honeysuckle provides a wide range of drinks offers, including cocktails, wine, and fizz promotions. The pub will also be hosting an annual schedule of events with offers all year round for the local community to enjoy, as well as charity events. Operator, Tara's first aim is to raise money to have a lifesaving defibrillator installed at the Honeysuckle.
Matthew Gurney, Operations Director for Proper Pubs, said: "The refurbishment at the Honeysuckle looks fantastic – the team have worked really hard to ensure it is a success for the local community.
"On behalf of the Proper Pubs team, we would like to wish our community hero, Tara, every success for the future in making the Honeysuckle a fantastic hub of the community".