The Greene King pub company and brewer has published Covid Stories, a book which captures a collection of stories from its people throughout the crisis.
With pubs closed during much of the pandemic, Greene King, a company with over 220 years history, it has encapsulated the accounts from its team members for generations to come.
The book shares the inspirational stories of people from across the business, the challenges they faced, the highs and lows and how they brought communities together.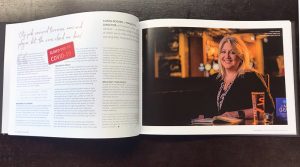 Greene King CEO Nick Mackenzie said: "When Covid struck it was devasting for the pub and brewing industry, but we battled through the constant uncertainty and restrictions. The fortitude and can-do spirit, which epitomises the character of people who work in pubs, was phenomenal. Covid Stories aims to tell some of our people's experiences, from the highs and the lows during the pandemic.
"I am so proud of all of our team members, and the book is full of selfless, creative, giving, community-minded, team-spirited, endlessly resilient and frankly, inspirational people."
During the pandemic, Greene King raised £1.5million for its charity partner Macmillan Cancer Support, despite pubs being closed for much of the year. Food and stock worth £800,000 were donated to good causes and brewery drays travelled the length and breadth of the country collecting 120,000 firkins of unused beer so it could be disposed of in an environmentally-safe way.
Read Covid Stories at https://www.greeneking.co.uk/our-company/covid-stories/