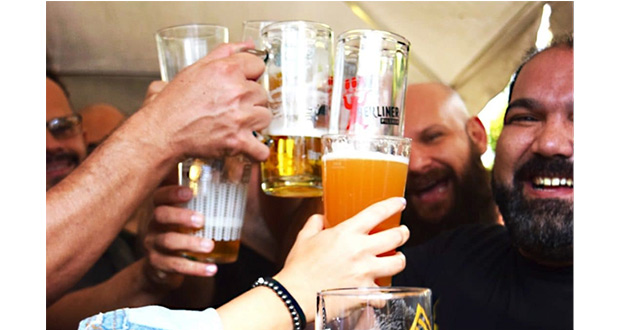 Cask Marque is urging pubs and bars to get behind this year's 10-day Cask Ale Week, billing the celebration as an opportunity too good to be missed.
There are awareness events for everything from National Potato Day and National Coding Week to Limerick Day and Be Nice to Nettles Week. Some are quite outlandish
"However, there's one National Week that everyone in the pub and beer industry can relate to," says Cask Marque's Paul Nunny. "That is Cask Ale Week."
He points out that real ale drinkers spend more on food and drink in pubs than any other group – over £1,000 a year on average. This means a week focussed on promoting cask ale, helping to drive footfall and converting drinkers to cask, has a sound commercial rationale.
"Since Cask Ale Week was first run back in the noughties, the 'Experience Economy' has grown exponentially," he says. "Consumers are seeking more than food to fill their stomachs and drink to quench their thirsts. They want experiences; they are looking to be part of something."
The 11-day long celebration of the country's national drink, beginning on September 19th, provides a platform, free to breweries, pubcos and pubs to use as they wish. "It helps the industry to tap into the pockets of people keen to try out new things. It's a great opportunity to engage consumers who are increasingly dependent on big occasions for their social activities. A national week that works for the local!"
Licensees and brewers across the country are invited to create a special promotion or activity from 19th to 29th September – or put one of their planned activities under its umbrella. It doesn't have to be complicated. A pub quiz, for example, can soon become a Cask Ale Week quiz by adding a round of questions on cask beer. Or there is a ready-made Cask Ale Week quiz. Just email: info@Cask-marque.co.uk to get hold of a copy.
"You know what would work in your pub or brewery," says Nunny. "The invitation is for you to use the Week – or even one day of the Week – in the way it best suits you."
The 9,000 pubs that have Cask Marque accreditation already appear on the free, easy-to-use CaskFinder App, and are automatically part of the World's Biggest Ale Trail. During Cask Ale Week, there are extra incentives for drinkers to use the app, try new pubs and notch up their scores. "Each of those pubs could be using social media to promote their offer to Ale Trailers and would-be new customers," says Nunny.