The opening of a new coffee shop at the Three Horseshoes in Fordham, Essex, is helping members of the local community get together.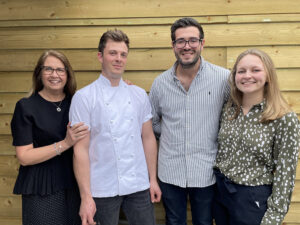 The pub was purchased by Moira Edwards just before the third Covid lockdown in 2020. Moira and her team like many pubs across the UK began to serve takeaway drinks and snacks to people living locally from an outdoor shed next to the pub.
It soon became obvious that the coffee shop was needed as a permanent service for the local area offering affordable snacks and a place for people to meet. Fordham is a village six miles from Colchester, Halstead and Sudbury with limited transport and a lack of local services.
The new coffee shop called The Coffee Shed was opened with the expert help and a Community Services Fund grant from Pub is The Hub, the not-for-profit organisation that helps pubs to diversify and provide essential local services.
The Coffee Shed is now situated in a renovated building next to the pub and has seating with views over the Woodland Trust fields.
It has extended its food offer from freshly made croissants and sausage rolls to include paninis, cro-buns, seasonal fruit, locally-made Temprd chocolate and old-fashioned sweets. It also offers freshly baked artisan sourdough, Sticky Pickle chutneys and pickles to takeaway.
The Coffee Shed also supports a wide range of other local suppliers including Dedham Vale honey, Fairfield Farm crisps, Colchester fresh fish and Anglia Produce.
Moira said: "It's an exciting time for us. We have so many visitors to The Coffee Shed in the mornings, so we wanted to create a comfortable welcoming space for our guests to enjoy their time with us. It's become a popular destination for locals and dog-walkers, so it's great to be able to create this new area and also expand the food offering."
Pub is The Hub regional advisor Jeremy English said: "The Coffee Shed is a great place for people to meet and socialise in a relaxed environment.
"The Three Horseshoes is at the heart of the village offering a place for people to get together. It is a great example of a pub supporting people in the local community."