The season is upon us, and most operators will have been planning for Christmas and the ensuing "mayhem" for months, however some may not be so organised, and may be frantically playing catchup!
Still, it's not too late and as any operator would agree preparation is absolutely essential. Not only is it your busiest time of the year of course it is a great time to welcome new custom and create such a positive impression you are welcome them back well into the New Year.
The hospitality and on trade sector fortunately weathers the storm when it comes to consumer spending, for the 2018 Christmas period consumer spending grew by 2% whereas the hospitality and on trade sector saw an increase of almost 13%.
According to the British Beer and Pub Association (BBPA) pubs served 10 million pints of beer and 3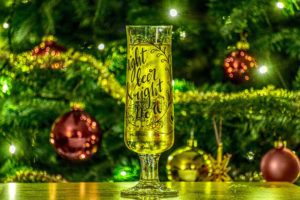 million traditional dinners on Christmas Day last year!
Across the festive period as a whole, the BBPA said that 40 million pints of beer were sold in Britain's pubs, a Christmas present for pubs worth £150 million.
BBPA Chief Executive Brigid Simmonds said of Christmas 2018: "Christmas is a very busy time for Britain's pubs and many see them as a home from home during the festive period. In fact, 10 million pints will be served by pubs on Christmas Day and 3 million Christmas dinners will be served at the pub as well.
"The role of the pub at Christmas is far greater than a place to eat and drink though. In many ways, the pub is the original social network and Christmas is a great chance to use it to reconnect with friends and family.
"The pub brings the community together and for those who aren't so fortunate to be spending Christmas with loved ones, the local will be a great place to soak up the festive cheer and avoid feeling lonely."
And whilst traditional Christmas products such as turkey and Christmas pudding are still our favourite by far the market has moved immeasurably. According to statistics the number of vegans in the UK has grown by over 360% over the last decade to over 3 ½ million, and millennial's are leading the drive towards vegetarianism. The free from food sector has in recent years enjoyed a period of substantial growth with the sector now valued at an estimated £560 million.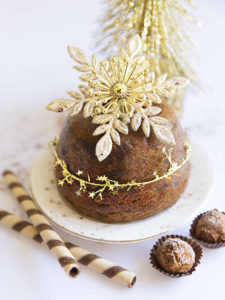 It makes great business sense to keep all your customers happy, says the Vegetarian Society, "There is a growing trend of meat-reduction and flexitarianism. This has led to a rise in people seeking out vegetarian and vegan options. When choosing a place to eat, your potential customers will choose somewhere that caters for everyone in their party. By maximising your vegetarian and vegan offering – you'll boost your business."
So if you haven't already got the message get planning NOW!!!!
Competition is fierce during the festive season, every other hospitality operator will be thinking and planning too, and the chains will be looking to recover some ground and will be aggressively targeting the market, with every offer under the sun! One point to consider is that value for money is paramount when parties, or families are considering Christmas bookings. And with hotels, restaurants and pubs all vying for those lucrative bookings, whether they are business party bookings, or family bookings, standing out from the competition and making sure you get it right, right down to the last detail is absolutely crucial.
Proper planning is essential
It your busiest time of the year and a great opportunity to create a positive impression, so ensure any maintenance issues have been resolved, and prepare for the unexpected. Make sure Beverage is fully stocked or pre-ordered in advance, look back at previous sales to give an indication of not only are busy you were but what with the popular and bestselling drinks. The same of course goes to food, ensure your kitchen a well-stocked and your supply chain is running smoothly and confidently.
Are you festive?
Come on it is Christmas! Push out the boat, make sure your premises look as festive as they can be, and make sure that you are well stocked up with all the festive goodies, tree, decoration, lighting, mulled wine, there is no bigger crime for a party or party organiser than sitting down to a table that doesn't have a Christmas cracker!!!!!
Communication is the key
Make sure you are marketing party deals and entertainment put up posters tent cards banners and flyers, make sure you're taking advantage of your website and social media. Check out the CLHNews website for all your festive posters available free of charge!
Also communicate with your staff. You will be relying on them throughout the Christmas period, and they will be working when everybody else is enjoying themselves. Consider introducing incentives such as personal or collective bonuses, for attendance, timekeeping, achieving targets on Bookings and/or sales. Keep everybody informed in front of house to kitchen, staff let them know what is going on have regular updates and meetings. Make sure all bookings are confirmed, checking details dietary requirements, particularly allergies and ensure that timing and food orders are correct
Be honest
Most customers during the pre-Christmas rush are in a happy mood. If the food is slow or any other issues arise, deal with it efficiently, politely and ensure that the customers are satisfied once it has been resolved.
Make the customers feel welcomed and loved
It's all about having fun, staff and customers. Outstanding service through a positive, friendly and knowledgeable member of staff is the key to any great customer experience. Make sure the customers feel that they are not just a number but a truly valued asset to your establishment.
Getting Ready for Christmas? Take a Look at These!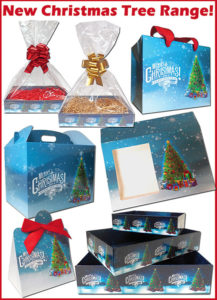 New and exclusive, we've created some great packaging options that fit perfectly with our current products. Our Triangles come in 2 sizes, just right for chocolates, sweets and smaller items, flat-top bags are fabulous for mugs and teddies and we've introduced a larger size of gable box.
Our gift trays have also been brought bang up-to-date with our Easy-Fold boxes and Sleeves to fit! Simply fold, stick and slide into the sleeve and you have a beautiful gift box, easy to fill and quick to wrap. Available in 3 sizes and 10 designs, with more on their way.
Our latest design added to our range this year is our wonderfully festive Christmas Tree design, surrounded by gifts and finished with a traditional message of 'Merry Christmas and a Happy New Year! Already a very popular choice.
Don't forget, we can also supply all your shredded packing paper, bows, wicker baskets and empty hampers – all with next day delivery available.
01502 501681  |  www.candigifts.co.uk  |  salesdesk@candigifts.co.uk
Daiba – Be Creative, Be Inspiring and Be Healthy This Xmas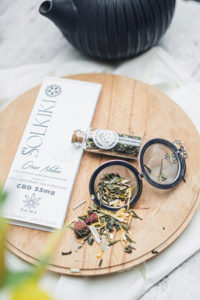 Reconnecting with nature using organic, raw and directly sourced ingredients to give our wellbeing a natural boost whilst creating minimum impact on our environment is Daiba Organic's ethos.
Our mission is to enlighten humanity and bring awareness to our physical, mental and environmental wellbeing with the power of nature.
We discovered the incredible benefits of using raw, organic and naturally sourced ingredients, not only in our diet but also in the products and supplements we use on a daily basis.
Earth kind and sustainable lifestyle choices can really make a difference to our health and wellbeing, we believe these choices should be available to all.
Bringing you nature's intelligence at its best, health boosting ingredients that are packed with essential benefits for your body.
Daiba Tea Blends – beautifully aromatic, full of flavour and superfoods.
CBD Infused Chocolate – Award winning, herbalicious goodness in a bar.
All our products are Plant Based, Sustainably Sourced, 100% Natural and Organic. Supporting you and your lifestyle, let nature be your remedy.
Grab Christmas by the Baubles This Year – at Peeks!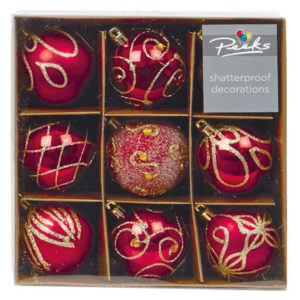 It's starting to look a lot like Christmas – especially if you visit Peeks. Our party people have been boosting yuletide merriment for more than 70 years and now we have the biggest range ever.
Whether you visit us online, flick through our catalogue or go to our enormous party store you will soon be overcome by the seasonal spirit.
Our little elves have been busy creating everything anyone could need for the festive celebrations.
If you want to spruce up your seasonal look we have the trees, the decorations and plenty of Santa-style surprises.
We've got balloons, fairy lights, costumes and crackers and boxes and boxes filled by our packers. There are bells and smells, tinsel and stars, baubles and bunting all shipped from afar.
Santa is coming in a matter of weeks – so get your Christmas head on and skate over to Peeks.
Visit www.peeks.co.uk
Sleaford Quality Foods Ltd Launch Exciting New 'Free From and Vegan Friendly' Foodservice Range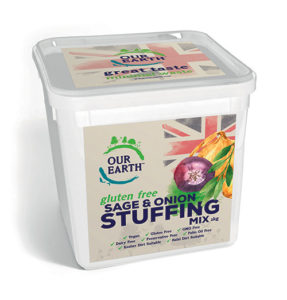 Sleaford Quality Foods (SQF), a leading cross-category supplier to the foodservice and catering industry has launched a new range in the UK with sustainability at its heart.
The new Our Earth range includes products providing full traceability back to source, offering natural ingredients and sustainability without ever compromising on flavour.
The range features on-trend products including gluten-free, dairy-free, palm oil-free, vegan, Halal and Kosher diet suitable options.
Initial range includes Gravy Mixes, Bouillons, Stuffing's, Yorkshire Pudding Mixes and Jelly Crystals delivering unbeatable flavour as part of a balanced diet.
Tracey Siddy, Head of Innovation & Marketing at Sleaford Quality Foods commented: "The Our Earth range is the latest move from Sleaford Quality Foods to continually improve sustainability in the food industry with products that can be traced back to source, while providing meal solutions for a range of dietary preferences"
"All Our Earth products will be lovingly made and blended in our state-of-the-art production facility in Lincolnshire."
Visit www.sleafordqf.com for details.