The spirit market is booming! Last year total UK spirit sales were a staggering £11bn.
The sector has, over the past 10 years, seen incredible change and innovation, and the spirit sector has been outperforming other sectors for some time. A poll by Survation earlier this year for the UK Spirits Alliance found that 65% of the nation's distillers reported increased sales of spirits, and also revealed that 84% of distillers plan to increase production over the next 12 months. Nearly a third are planning to more than double their production over the next five years, and 70% expect to increase exports in the next 12 months, while 60% plan to hire additional staff.
We are now approaching that wonderful time of the year, which for the hospitality and on trade sector is the busiest, in simple terms Christmas is BIG BUSINESS in the drinks world! You will be pleased to know that according to insight specialists CGA, during the festive period last year almost 6 million consumers tried a new or different drink, and one third of customers said they were prepared to spend more on a better quality drink. More than half (51%) said they were also influenced by a category they would not typically choose.
And, when it comes to spirits, it's all about the experience, and cocktails and premium spirits offer the perfect recipe for customers looking for a great experience on a good night out. With consumer experimentation driving interest, and plenty of product innovation, spirits are currently one of the big wins for the on-trade. On trade spirit sales are now worth over £6.5 billion and grew by 6.7% last year, and the really good news for pubs and bars is that premium spirits were up 14.6% – and almost 70% of premium spirits are sold in the on-trade.
As the festive season approaches, Philip Montgomery of CGA said, "Christmas is a crucial time for operators who need to ensure they are making the most of footfall throughout December by encouraging customers to trade up with special promotions, new products and exciting tempting offers".
Importantly for the sector, the drinks category continues to be full of innovation taking in not only spirits, but mixers and soft drinks as well. This innovation is reflected in the growing cocktail market in particular, which has expanded far beyond high end bars.
Encouraging businesses to give cocktails a seasonal twist Amy Burgess senior external Communications manager at Coca-Cola European partners said "Although cocktails are often associated with summer, consumers are now enjoying cocktails during the winter and outlets are increasingly looking to update cocktail menus to cater for more wintry tastes. As you move into colder months licensees will have an opportunity to create winter themed serves and give customers new drinks to try other than their go to summer drinks".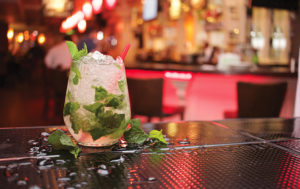 While gin has been the shining star of the category other drinks like rum and whisky are steadily growing. Along with gin, rum has driven growth with almost 35 million bottles sold worth over £1 billion according to statistics from the Wine & Spirit Trade Association (WSTA). In 2006, there were around 50 rum brands on the UK market, but now that number is approaching 200, underlining that UK drinkers' desire to experiment new and different brands is not confined only to experimenting with gin.
Despite a recent fall in both value and volume, whiskies are possibly the most vibrant and diverse category in spirits at the moment, with a growing emphasis on innovation and experimentation. Their heritage, craft and complexity provide an opportunity to engage people, to educate them and take them on a journey, creating a richer thought-provoking drinking experience. Furthermore, whisky is expected to return to growth, and expected to worth in excess of £2.44 billion by 2022, which is up from £2.31 billion in 2018.
This can largely be attributed to consumer interest in the products they now purchase, and as repertoire increases traditional offerings are disrupted as consumers embrace new products flavours and tastes. Consumers now entering pubs bars and restaurants are more likely to be looking to be inspired rather than stick with predetermined choices.
This will. of course. raise opportunities to be embraced the challenges to be managed and operators need more than ever to understand the demands and behaviours of the consumer as the landscape continues to shift.
In fact, spirits have grown to almost one in 3 serves in total beverage alcohol.
In 2018, spirits grew by 7.4% in value to £11.1bn. The majority of this increase was fuelled by gin which grew by +52.2% in value while other areas such as malts (+3.6%) and rum (+4.1%) also saw positive growth.
CGA's Director of Client Services Jonny Jones at Spirits Summit conference late 2018 says:
1. Spirits are outperforming the market
Spirits now have a 22.1% share of all drinks sales by value, according to CGA's On-Premise Measurement Service—up by two percentage points in just four years. Some of that growth has come at the expense of categories including beer and wine, but it is also being fuelled by innovation in serve and flavour, Jones told the Summit. "The spirits category is a hugely important revenue driver for the trade, and one that is helping operators to sustain growth in a challenging marketplace."
2. The gin category is still booming
Observers have been wondering whether the on trade has reached 'peak gin' for several years now, but CGA data suggests that point is still a way off. Sales have leapt by a third (33.2%) in the last year alone, and outlets now stock an average of 6.7 gin brands—nearly three times as many as the average of 2.4 just four years ago. Gin now attracts 14 pence in every pound spent on spirits in the on trade, with pink gin a particularly important driver.
3. Rum is flourishing too
While gin is still the clear growth leader, other categories are also growing fast. Sales of golden rum and dark rum are up by 10.9% and 8.6% respectively in the last year, and now have a combined 7.2% share of the spirits market. Irish Whiskey sales are meanwhile up 2.8%. "Rum and Irish whiskey have seen plenty of innovation, as well as solid performance from bigger brands, and are tapping into consumer demand for discovery, new flavour profiles and products with heritage and an interesting brand story to tell," Jones told the Spirits Summit.
4. Premium spirits are spreading
The trend towards upmarket brands in out of home drinking continues, with sales of premium spirits growing in double digits in the last year. Of the 964 spirit launches in the last three years, more than a third (329) have been in the premium category and nearly half (454) in the super premium category. But the trend is also evolving—most notably in the way that these brands are becoming more commonplace in mainstream as well as premium venues. Since premium spirit drinkers tend to be big spenders—with an average monthly on trade spend of £104.82, against £78.16 for standard spirit consumers—it is clearly a vital demographic to serve.
5. Innovation can boost cocktail sales
Cocktails are a crucial factor in the ongoing success of spirits, and CGA data shows that sales by value have risen by 7.5% in the last year. But as Jones pointed out at the Spirits Summit, there is still plenty of headroom for growth. Making greater and more prominent use of popular spirit brands could be one way to achieve it, and with the stigma around draught or pre-batched cocktails now falling away, different serves may present another route.
6. Range and NPD need to be smart
The 20 million British adults who enjoy spirits out of home are more likely than average to be engaged and experimental with their drinks. CGA's BrandTrack consumer research shows that well over half (58%) of spirit drinkers enjoy trying new brands when out. But with so many new options arriving on the market, operators need to be careful not to overload drinkers with too much choice. For suppliers, the challenge is to make new product development considered and compelling, Jones said.
Diageo's Drinks Report 2019 released earlier this year examined the growth opportunities for alcoholic beverages in Great Britain, with an exciting opportunity to grow the alcoholic drinks category in the UK by £5.2bn.
Gin ​
Gin is still extremely popular, growing 42.2% last year, its fifth year of successive double-digit growth, making it the fastest growing category in total alcohol.
"Everyone now wants a piece, and compared to two years ago there are over 200 new gin brands in the UK market, accounting for nearly a quarter of all spirits NPD – a strong effort from a category that still only makes up 20% of total spirits," says Diageo in its report.
Vermouth revival​
Vermouth is "hot on the heels" of gin, offering a similarly light and refreshing choice that suits the aperitif occasion. According to analysts Kantar Worldpanel searches on Google for vermouth have increased by 30% in the past year.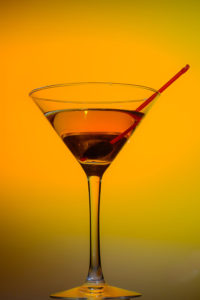 "First revived by mixologists as supporting cast in classic cocktails, vermouth has become a trend unto itself, served neat or in a spritz," says Diageo.
"The fortified wines meet the desire for both moderation and botanicals. Craft producers in new regions are jumping into the category, infusing vermouth with contemporary twists and local ingredients."​
Over TWENTY FIVE Whisky producing nations around the world​
Whisky of course has a long historical association with Scotland, but one could also include America Ireland is famous whiskey producing nations, however, there are now over 25 whisky producing nations 'with distilleries popping up in new countries at a rate of knots', according to Diageo.
"As the world of whisky continues to grow, we are starting to see an increasing number of niche global brands coming to back bars and supermarket shelves in the UK. Further down the line expect to see new outlets springing up that specialise in the likes of Scandinavian or Australian whisky."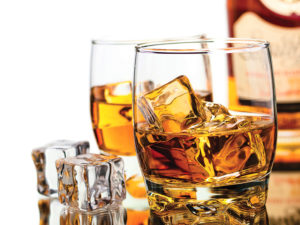 While the whisky category world- wide has grown, it is facing some stiff competition from other categories particularly gin, and according to the report "must make a focused appeal to win over consumers." According to the report the category has not done enough to appeal to new drinkers and keep pace with the unstoppable rise of gin, which overtook whisky as the second biggest spirits category in the on-trade in 2018.
"There was a time when whisky evoked images of old men in leather armchairs, of inaccessible prices, of acquired tastes and above all, of a spirit that could only ever be drunk neat or with a little water. Times are changing and we are seeing pioneering attempts to cut through the complexity, overcome consumer barriers and make whisky a more accessible category for all to discover."
"To drive whisky back into growth we need to bring new drinkers into the category," says Diageo. "We have to cut through the noise that surrounds the category and focus instead on an evocative flavour led approach, supported by exciting serves.​
Super-premium
According to Fentimans market report the premium category has been driving the growth in spirits in recent years with sales by value up 6.3% year-on-year. However, as consumers become even more educated and discerning about drinks, a divergence has emerged between what is "premium" and the new "super-premium" category. Sales of super-premium spirits have grown by 24.5% in the last year alone, with consumers becoming more comfortable with paying extra for high quality choice. This market is likely to grow, especially in dark spirits, and that opens up the opportunity for mixers. It will be interesting to see if dark mixers can find a way to harness the super-premium trend, and what innovative approaches are taken to ensure that mixers do not "de-premiumise" and very ritualised category for neat spirit drinkers the report said.
Faith Holland of spirits company Diageo said, "Christmas in the on trade is a time and people are very happy to indulge and treat themselves. This create a real opportunity for operators to maximise their sales because drinkers are willing to trade up their tipple is and try new things. Licensees therefore need to make sure there are those opportunities for consumers to do just that if you think about spirits it is all about making sure that premium options."
Putting the art into party is all part of the flavour enhancing experience says Simon Duke director of G&I Spirit Group, which has been founded by a group of bar owners who are passionate about customer services and the upsell of their products.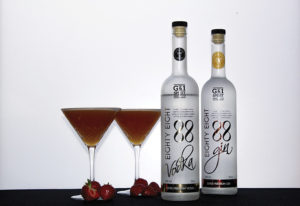 G&I Spirit Group's philosophy says Simon is "to pass on, through our Upsell Programme, super premium spirit drinks that can be a unique flavour enhancing experience, giving our customers a greater character-based refreshment."
"My brother Rupert and I set up the G&I Spirit Group seeking to create a range of spirit drinks in harmony with life, as well as being delicious and capable of being enjoyed in all manner of ways, including simply over ice. Our spirits are a slightly more complex and rewarding alcohol with a mysterious warmth while ensuring that the "ethanol burn" doesn't become the star of the show".
"Our belief is in 'social rituals' where common courtesies and accepted standards of behaviour will help lead to a constant civilized society in which humaneness, love and kindness will prevail. We believe people should treat others as they would like to be treated themselves, and also treat them to a cocktail."
Increase sales
In these highly competitive times, it is imperative that operators meet the demands of clientele looking for high quality and fresh experiences when they are out of home. According to a report several years ago up to a third of customers walking into an outlet do not know what they want to order so it makes sense for operators to have a visible selection offering mainstream and premium products, backed by good staff knowledge!
The biggest winners as we approach the festive season is spirits, particularly categories that have performed well throughout the year. Furthermore, encouraging customers to try new drinks over the festive period has long-term year-round benefits since one in five customers who try new different drink during this period of two thirds more likely to order that drink again.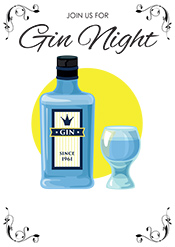 Your staff's ability to consistently deliver a superior service is vital to driving sales. So, make sure staff are trained to confidently communicate the extensive range you have invested in to take advantage of consumer curiosity.
Being at eye level for your customers, it's one of the most important areas of the whole bar. It's where you should aim to highlight both premium and popular offerings as it's this location that gets the most attention.
Drinks in this section will mainly be spirits, a wide range of products can provide your customers with more choice. Increasing awareness of the variety you stock can influence your customers' behaviour to try and buy.
If you have an selection of brands, grouping them can be an effective way to increase sales. Separating your light and dark spirits will also help make your bar look more cohesive and make your customer's buying experience easier with their options more visible.
We here at CLH News have also done our bit, we have a great selection of posters for you to download from our website free of charge, which include posters for Christmas, New Year and cocktails and spirit promotions!