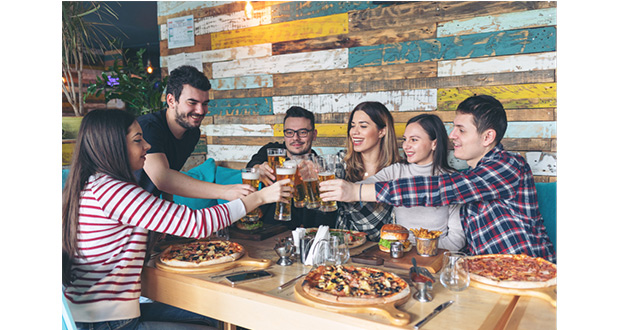 As freshers' weeks draw to a close in university towns and cities across the UK, CGA data has revealed there is more to students' eating and drinking-out behaviour than meets the eye.
Student lifestyles usually conjure up images of cheap drinks and nightclubs as much as libraries and lectures. For some, this is still an accurate picture: one in eight (13%) go out for a drink more than three times a week, compared to a population-wide average of one in ten.
But there have been stark changes in habits that suggest these student stereotypes are out-dated. They are on average drinking less, and are more likely to be followers of fashion than pioneers.
CGA's BrandTrack shows that well over a third (39%) of students go out for drinks less frequently than monthly—a jump of seven percentage points in just four years.
Numbers going out weekly have gone the other way, slipping from 41% to 33%. What's more, one in five (19%) students say they are teetotal—substantially more than the 12% of the total population. Fewer than half (43%) drink alcohol weekly, in or out of the home, compared to 61% of the total population.
This sharp swing in trends reflects a shift in the psyche of students and their millennial and Generation Z counterparts. For businesses across the out-of-home eating and drinking market, this brings new challenges—but if they can align their messaging, products and values to the new dynamic, it offers big opportunities too.
But to take advantage, brand owners must realise that not all students are the same. CGA's MATCH segmentation service reveals important nuances in attitudes and behaviours in the eating and drinking-out markets, and suggests that contrary to what some might think, students are more likely to follow trends than set them.
They predominantly fall into MATCH's 'Confident Conformists' or 'Mainstream Minded' segments, with just 6% classified as 'Trending Tastemakers'. They also under-index for key segments like 'Sparkling Socialisers' and 'Business Class Seekers.'
Many students prefer to stick to mainstream branded restaurants, pubs and bars, and are less likely than average to choose premium options in drinks categories. A much-publicised squeeze on their spending means that while the number of British adults drinking premium spirits has leapt 17 percentage points in the last four years, the uplift for students is just four percentage points.
That's not to say that students have abandoned spirits: their most popular alcoholic category in the on-trade is cocktails—consumed by 46% of students, well ahead of drinks like cider (37%) and vodka (32%). Numbers drinking gin have meanwhile doubled, from 11% in 2015 to 24% now.
But with fewer students drinking alcohol, other drinks categories like soft drinks, tea and coffee are becoming more crucial, putting pressure on operators to craft a broad offer that resonates in university towns and cities. Two in five (39%) 18 to 21 year-olds have also bought a no and low-alcohol drink in the on-trade, double the British average (20%).
Similar trends of moderation and abstention can be seen in the eating-out sector. Nearly two in five (38%) students seek to limit their meat consumption when they eat out—much higher than the British average of 26%. More than a third (36%) say they have a dietary requirement, against 21% of the general population.
All this insight shows that students are making more considered, ethical and healthy decisions when they eat and drink out than in the past. Navigating their complex and changing range of demands might be daunting, but the potential rewards are high.
Although students have an average of 10 eating-out brands in their repertoires, BrandTrack shows that nearly half (46%) consider themselves loyal to the places they visit and like. If the offer and price is right, operators can generate substantial advocacy and loyalty in this demographic.
Students are demanding, and their habits do change. Tailored strategies are needed to win their trust, and on this there could be lessons to learn from the retail sector, where brands often devote days, deals and activations to students. Discounts might seem like a high price to pay for winning hearts and minds, but with these young adults at the start of their relationships with brands, student-savvy campaigns can build brand loyalists—and if they carry their preferences into later life, the rewards will last much longer than those hasty freshers' week romances will.