Marsham Court Hotel, Bournemouth has become the first hotel in the UK to install a Changing Places toilet.
Following the successful expressions of interest from 191 local authorities in round one, 500 new Changing Places toilets are being installed, which will increase the number of registered toilets in England to over 1,800.
However, there are still many local authorities with limited to no Changing Places toilet provision. By concentrating this second round of funding on these areas, the Changing Places Consortium, the group of organisations spearheading this campaign, hopes to see at least one Changing Places toilet in every local authority by the end of this programme.
Muscular Dystrophy UK has campaigned tirelessly for increased Changing Places toilet provision across the UK and is delighted that more local authorities are able to benefit from this funding.
As co-chairs of the Changing Places Consortium, the charity will be providing specialist expertise and support to any local authorities awarded funding, including staff training and guidance, and dedicating Changing Places Officers to provide advice with the installation and registration process.
Changing Places toilets are specifically designed and equipped for people with significant disabilities. They are larger than standard accessible toilets and include specialist equipment such as hoists, curtains, adult-sized changing benches, and space for carers.
These toilets give people the freedom and confidence to enjoy daily activities. In the absence of these facilities, people living with disabilities are facing restrictions to their social life, dehydration and infection – caused by limiting what they drink – and the indignity of sitting in soiled clothing or being changed by their carer on a dirty floor.
Research undertaken for Muscular Dystrophy UK by Research Institute for Disabled Consumers (RiDC) shows that people would like to see them installed at tourist hotspots and attractions, such as public parks, seaside resorts, museums and shopping centres, giving them the freedom and confidence to travel further afield and enjoy recreational activities.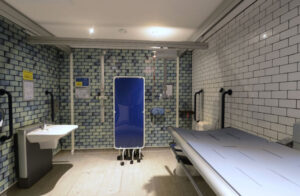 Katrina O'Leary of Need2Change, a Changing Places campaign in Kent, said:
"It's so exciting to see the launch of round 2 of funding for Changing Places toilets in England, meaning more local authorities can apply for a share of the DLUHC funding.
"We're asking all eligible local authorities; please take advantage of this funding and any training opportunities. Changing Places toilets are a tangible demonstration that you care about people – and whatever your strategic priorities, showing that you want to include your wider community is so important."
Robert Burley, Director of Campaigns, Care and Support at Muscular Dystrophy UK, said:
"We're really pleased that local authorities now have the opportunity to apply for a share of the remaining funding from DLUHC. We look forward to continuing our work on the programme, supporting DLUHC and all local authorities that receive funding, because Changing Places toilets make a real difference, opening up the world to those who depend on them."
Local authorities have until 30 September 2022 to submit their expressions of interest and opt in to receive funding. For more information and to submit expressions of interest, they can visit www.gov.uk/government/publications/changing-places-toilets-programme-round-2-prospectus