Italian restaurants are stealing the spotlight come up with Italian cuisine becoming the UK's most popular international cuisine according to a new report.
Indian food used to rule the roost as Britain's top cuisine, however, this year, things are shuffling around, and Italian restaurants "topping the charts" for the first time. They're rocking a whopping 8.5% of all restaurants in the UK. Right behind them are Indian joints at 8.4% and Chinese restaurants are bringing up the rear with 6.7%.  
Craving pasta or pizza? A whopping 1,617 Italian restaurants have registered at the Companies House since 2022. An increase of 16,4%. For the first time Italian is topping the list of international restaurants. Surpassing Indian. Even Gordon Ramsey joined in on the trend with the opening of his popular concept Street Pizza. There are currently 11,489 Italian restaurants in The United Kingdom. Closely followed by Indian (11,378 eating places) and Chinese restaurants (9,123 restaurants). It's a tasty battle between pizza and curry, and diners in the UK are loving every bite of it!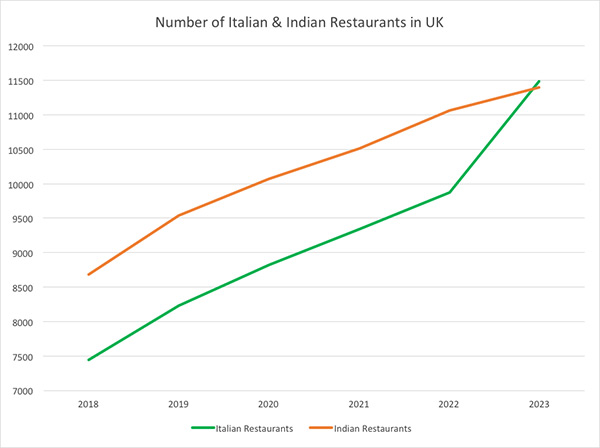 Top 10 (international) cuisines in UK
Italian restaurants 11489
Indian restaurants 11378
Chinese restaurants 9123
American restaurants 3022
Turkish restaurants 2875
Thai restaurants 1819
Japanese restaurants 998
French restaurants 760
Pakistani restaurants 724
Portuguese restaurants 691
London is the pizza place to be
When it comes to pizza and pasta, London is the place to be. London has a whopping 2.165 Italian restaurants, a growth of 67% compared to 2018. Manchester comes in second with 531 restaurants.