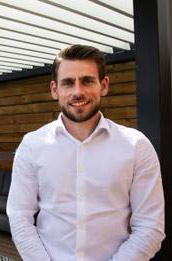 By Stuart Dantzic, Managing Director, Caribbean Blinds (www.cbsolarshading.co.uk)
As the world returns to a sense of normality after a chaotic couple of years, life post-pandemic certainly looks a lot different for many of us. Reigniting our love for the great outdoors and the "staycation" are amongst some of the most prominent new norms for Brits.
Statistics show an additional 18,000 restaurants that listed 'outdoor dining' as part of their offering since the start of the pandemic. For establishments to capitalise on this new-found interest and growth in outdoor dining, it's important that they utilise the full potential of any outdoor spaces and secure them for year-round protection.

Increase capacity
As a general rule, all businesses should be taking advantage of every resource available to them, however, commercial outdoor spaces can often be overlooked and not utilised to their full potential. By investing in and monetising outdoor spaces, commercial establishments such as restaurants, bars and hotels can reap the rewards, resulting in an increase in revenue, footfall, reputation, and overall business success.
Preparing outdoor spaces for year-round use can provide venues with additional seating/eating areas, expanding their capacity and enabling them to welcome more guests – especially during busier periods such as public holidays, the festive season and national/regional events.
Capitalise on 'beer garden' & alfresco dining culture
As summer approaches, many Brits will flood towards pubs, bars and restaurants in search of a pint in the sun or an al-fresco style lunch/dinner, and with many businesses competing for their attention; it's essential to provide an outdoor space that offers comfort, is aesthetically pleasing and stands out from the crowd.
Although soaking up the sun will be a priority for many, comfort is key to enticing customers, whilst enhancing their overall experience. As such, it's important to provide substantial shading to offer a welcomed break from the heat. Awnings provide instant shade and shelter from direct sunlight; both heat and glare (bright light) and offer outstanding UV protection (typically 95% minimum UV block). Not only this, but they also deliver a much-needed cooling effect to the indoor room adjacent to where they are positioned and help stop fixtures and furnishings from fading.
Prepare for rain
If the change-up of the 2022 World Cup being held in December has taught us anything, it's that regardless of weather and time of year, the masses will flock to local watering holes to support national/popular events. 28.5 million pints were sold across the UK on the 10th December – the day England exited the World Cup – an increase in 166 pints compared to a regular Friday and Saturday.
To support these busy times, utilising all available space is important and, in the winter/wetter months, waterproofing outdoor spaces is imperative. It's likely that more temporary covers such as brollies and parasols won't stand up to adverse conditions and although retractable awnings can protect and shelter customers from sun, shade and light rain showers at the touch of a button, they can be susceptible to damage from high winds.
Modern pergolas with either sliding fabric or rotating aluminium louvered roofs and sides offer a more pragmatic solution, providing protection from heavy rain, gale-force winds and even snow. Pergolas with a retracting or rotating louvered roof are also multifunctional and can be left open throughout the warmer months and fully closed during the winter. The addition of side screens, LED lighting and infrared heating will also provide customers with additional comfort and warmth, enabling businesses to make the most of their outdoor commercial space at all times of the day (or night) and in any weather.
Regardless of season and time of day, weather-proofing your commercial outdoor space will benefit and support business growth, revenue and capacity, whilst working in tandem to boost the venue's potential and enhance its reputation as a result.