RapidFit by Rearo is an instant solution for washroom surfaces. Designed to accommodate time-constrained commercial washroom projects, Rearo's 'off-the-shelf' RapidFit range is the perfect, fast solution for projects requiring toilet cubicles or vanity units.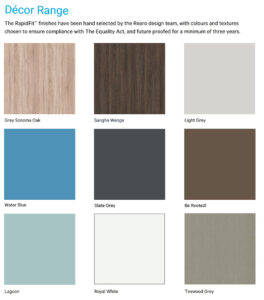 Washroom design plays a vital role in the overall appearance of your company branding and can have a lasting impression on visitors – that's why Rearo offers a dedicated core range of nine high-pressure laminate décors within the commercial washrooms range.
The RapidFit finishes were hand selected by the Rearo design team, with colours and textures chosen to ensure compliance with The Equality Act and future-proofed for a minimum of three years. The colour choices take into consideration the needs of people with disabilities, including visual impairment, by ensuring neighbouring expanses of colour, such as walls and doors, are distinguishable by using contrasting colours. Particularly popular within the hospitality sector, RapidFit washrooms are ideal for pubs restaurants and hotels.
RapidFit toilet cubicles, vanities, and IPS are available in either an MR MFC or Compact Grade Core.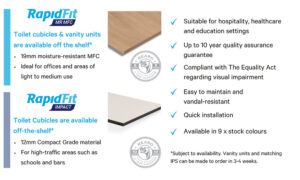 Supported by a five-year manufacturer guarantee, MR MFC is ideal for light to medium-traffic spaces. For higher traffic areas requiring a little added durability, choose the RapidFit Impact range. Completely water resistant, this solid-grade laminate core is ideal for humid and wet environments and backed by a comprehensive ten-year guarantee.
Cubicles are supplied as a flat pack, ready for a quick and easy installation and all RapidFit components are available to buy individually to offer a variety of installation possibilities. Matching IPS can be made to order in only 3-4 weeks.
Ask your fitter/joinery/plumbing contractor or architect to get in touch for free sample packs and design and specification assistance. Or, order your RapidFit washroom now.
0141 440 0800
commercial@rearo.co.uk
www.rearocommercial.co.uk