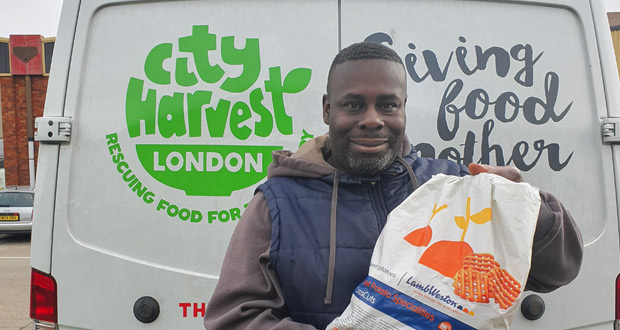 Lamb Weston have donated the equivalent of 1,400 portions of frozen sweet potato product to help food redistribution charity City Harvest feed the hungry.
City Harvest helps put surplus food to good use in a sustainable way by distributing to 260 organisations that feed the city's most vulnerable people.
While thousands of Londoners go hungry each day, safe, healthy and usable food is being dumped as waste. City Harvest collects this nutritious surplus food from all segments of the food industry including restaurants, grocers, manufacturers, wholesalers, hotels and caterers.
Their nine drivers then deliver nourishing food to organisations that provide meals to vulnerable people including homeless shelters, soup kitchens, children's programs, centres for the elderly, and refuges for women experiencing domestic violence.
Lamb Weston's 20 cases of Sweet Potato CrissCuts were distributed to various regular recipients, including Acton Homeless Concern, which serves up 200 covers every lunchtime to anyone who needs a meal.
"The driver sees mums who drop their kids at school then go to Acton Homeless Concern for a lunch. They spend what little they have on feeding their kids but they don't feed themselves because they can't afford it," says Sigourney Merrony-Potton, City Harvest's Head of Food Development.
"About 20% of our food comes from City Harvest, which is about a saving of £100 per week," says Ian Breen, Director of Acton Homeless Concern. "With the help of City Harvest we can provide our clients with a much more varied and healthy diet to what they were already getting before, i.e. fresh vegetables and more meat."
More of Lamb Weston's product went to the American Church soup kitchen which provides up to 250 covers a day to homeless people.
And yet more went to Sands End Adventure Playground, in Fulham, which provides after school care for children. Hot meals can be bought, but not every parent can afford it. City Harvest's regular trips mean every child gets to eat a hot meal.
"The food from City Harvest enables us to feed all of our children equally, regardless of their family's income," says Julie Cavanagh, Playground Manager at Sands End Adventure Playground. "This means all the children will receive a hot nutritious meal, that some might not get at home. This also means we have free-up money from the food bill to spend on supplies arts and crafts and other activities."
Since City Harvest set up four years ago, they've 'rescued' 5 million meals. They're always looking to take on partners, like Lamb Weston and others, to donate on a one-off or regular basis.
"We're improving people's lives," says Sigourney. "Most of us take it for granted that we'll eat decent food when we're hungry. For some of those who are fed by the organisations we deliver to, it may be the only hot meal they have all week."
"The food we redistribute helps organisations serve thousands of healthy meals each week and reduce their annual grocer bills – freeing up funds that can be reinvested in other vital support services. We divert food from landfill where it would release gases toxic to the environment. To date we've redistributed food valued at more than £6 million, free, to our partners and offset 7,000 tonnes of greenhouse gases," says Sigourney.
Lamb Weston's Country Marketing Manager UK & ROI, Andrea Deutschmanek, says: "Lamb Weston is very pleased and proud to support City Harvest. As an inventive company, we're always striving to be better at what we do but also, we believe in making this world a better place, and that includes paying attention to sustainability, helping to support the hungry and vulnerable and providing well-being through potato goodness. Why shouldn't people in need have the same high-quality food as those who can afford it? Potatoes are such a great source of vitamins, minerals and dietary fibre, but we are also reducing the salt and fat levels in our products to make them better for everyone."