The Castle, a local community pub in Swindon, reopened on Friday 19th of May following a significant £155,000 investment from leading community pub company, Admiral Taverns, which owns more than 1,500 community pubs across England, Scotland, and Wales.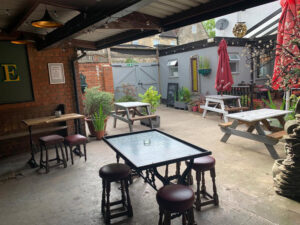 Together with Admiral Taverns the passionate licensee, Audrey Kamugisha – alongside her partner Adam Willis – has worked hard to breathe a new lease of life into the pub ahead of the summer. Throughout the refurbishment, Audrey has made sure to retain the pub's traditional features, whilst enhancing the overall look and feel with brand-new modern furniture, fixtures and fittings.
Inside, the pub features brand-new bars, new flooring, a new stage, a darts board, pool table and deep-red painted walls. Outside, customers will be greeted by a newly painted grey and white exterior alongside brand new lighting and signage to create an inviting entrance for the community. Additionally, The Castle's courtyard has been fitted with new sheltered seating for those wanting to enjoy the warmer months outside and so the space can be enjoyed all year round.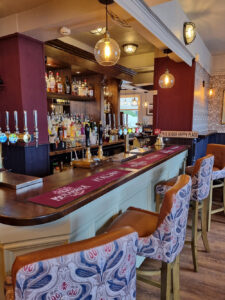 At the helm is pub enthusiast, Audrey Kamugisha, who brings a wealth of experience and charisma to the pub. Having worked in the industry for 35 years, the licensee will use her expertise and passion to ensure The Castle becomes a pillar of the local community. For Audrey, this is a dream come true as she has worked at The Castle for 13 years and is determined to give something special back to her beloved neighbourhood.
Licensee at The Castle, Audrey Kamugisha, said:"It really is such an honour to take over The Castle with my partner Adam by my side. I know how much this pub means to local residents so I am delighted to have this opportunity, and I can't wait to further cement its place in the community. Having lived in Swindon for 20 years, The Castle holds a very special place in my heart, and I am excited to reunite all locals with their adored pub."