When it comes to satisfying customers in pubs and bars, competition is fierce and continues to grow. Therefore, it is crucial for operators to always be on the lookout for ways to update their products and services accordingly, and meet customers' growing and changing demands.
Snacks provide a lucrative opportunity to increase sales and profit. According to research from NPD group out-of-home snacking this past year has risen by 11% with pubs seeing the strongest growth with spend on snacks increasing by 28%.
So, what defines a snack? Not a difficult one, a snack is "a treat between meals", something to curb your hunger, or even replace a meal if necessary. However, you see it, for most people snacking is a daily habit. And in many cases, one that is indulged several times a day, driving a huge demand for products to satisfy this insatiable consumer need, and what better place for a snack than a pub or bar?!
For decades, bar patrons have grown accustomed to snacking on traditional favourites such as salty nuts, crisps or pork scratching's, as snack when they order drinks at the bar, however, in recent years compassions between some pubs and restaurants has become a "distinction without a difference", with many operators of traditionally drinks-focused venues turning their hand to food. And so, it begs the question is there still a place for bar snacks?
You will be pleased to hear the answer is a resounding YES!
A Snacking Occasion Consumer Report by Technomic a few years back revealed that nearly half of consumers eat snacks between meals and as meal replacements. Customer dining habits have changed in considerably from the standard 3 meals a day routine. Today's consumer has an on-the-go lifestyle and seeks out pubs and bars that fit in with that lifestyle. As consumers choose to eat between meals and want smaller portions of food, pubs and bars that provide this will stand out from the competition.
Alcohol, of course, has a way of arousing our hunger pangs and also stimulating flavours on the palate and making those delicate little snacks taste that little bit better. Whether you are drinking a mainstream or premium beer, a crisp chilled wine or a gin and tonic, snacks and alcohol complement each other exceptionally well.
However, snacks are not without their competition. Consumers are opting for more innovative snack options and, surprisingly, modern technology has thrown its hat into the ring. Snacking now faces competition for consumers attention with smart phones to alleviate boredom, fatigue or plain old self-indulgence.
Insight from KP Snacks shows that the bagged snacks market is worth £2.9 billion and is growing at +4.5% in value outperforming other impulse categories including confectionary, soft drinks and biscuits, clearly demonstrating that operators have the opportunity to capitalise on demand and boost profits.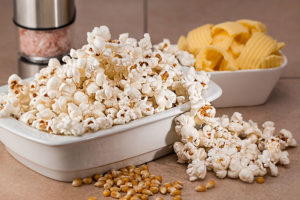 Quick, tasty and convenient bar snacks are an easy temptation, a great way to increase profits, feeling hungry customers encouraging more drink sales, and often a talking point.
It can be extremely tricky to decide what products are best to offer, with lots of options available, and you won't go far wrong by stocking the traditional favourites to satisfy customers, but at the same time, offer something slightly different and upcoming.
While Crisps and nuts have long been favoured fodder in pubs and bars, but times are changing with some customers now looking for something a little more special to munch on, with free houses, gastro pubs and trendy bars are looking for snacks that are in keeping with the great range of drinks they have on offer.
Many pubs have introduced bar snack boards offering tasty handmade finger foods such as Scotch Eggs or Sausage Rolls says Steve Bush Brand manager at snack producer Fairfields farm "However, customers still love packeted grab snacks, but choose them carefully. Pick a range that includes more unusual flavours, consider healthier options, vegan and gluten free ranges, and if there's a local snack company offering something great then give it a go. After all, what's the point of offering a fantastic selection of craft ales when your snacks are run of the mill?"
Not So Traditional
Popular though traditional snacks are, all-day snacking is also providing an opportunity to sample a wider selection that meets the demands of the innovative and sophisticated palates. Gone are the days of selling crisps and nuts as a snacking option says Robin Norton, Category Controller– McCain Foodservice Solutions "punters after a light bite seek something more substantial and upmarket. Consumers are now moving towards an 'anytime, anywhere' eating pattern; snacking is no longer just a between meals occasion – it's now a meal in itself. According to Technomic's 2018 Snacking Occasion Consumer Trend Report, 39% admitted that their definition of 'snacks' has changed over the past two years and now includes a wider variety of food and beverages, with this number rising to 57% for consumers aged 18-34."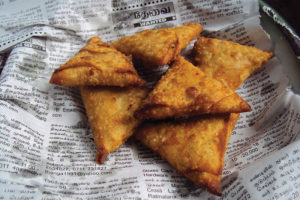 "This behavioural change is a positive one for operators as introducing premium bar food not only creates a more memorable experience for customers but can also lead to increased incremental spend from those who originally chose the bar solely as a place to drink. In addition, industry research has revealed that customers using the bar menu are more likely to stay and drink for longer, with the average person spending 17% more than those who don't."
Operators looking to stand out from its competition should ensure a selection of hot, premium bar food is on offer to help to capitalise on these consumer trends. Perfect for grazing, we recently launched Brew City – a new brand of hot bar snacks– to drive incremental income for operators.
Healthier Snacks
One of the key changes in recent years is that involving generation Z who are drinking less eating healthier and more enticed, according to reports, to "light bites", providing a great opportunity for pubs to attract younger clientele who are otherwise bypassing the on trade.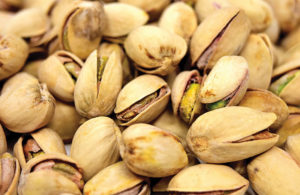 The health trend currently sweeping the nation is no different within bars and pubs, as research shared by Kellogg's, from Kantar, highlights that functional and nutritional snacks have grown by 19% in sales, whilst the demand for chocolate bars has decreased, with sales falling by 6% in the past year. Further insight shows that women's perception of weight loss has shifted from 'calorie controlled' to 'natural and good for me', meaning that operators are able to take advantage of nutritional snacks by offering products that contain natural ingredients, such as nuts, seeds and grains, and the healthy marketing which comes with them.
What's more, it is becoming increasingly important for operators to consider dietary requirements when expanding their bagged snacks offering, with research showing that 15% of the UK is now gluten free.
When it comes to driving purchase, activation is key. Research shows that 32% of consumers have purchased on impulse, whilst 28% purchased on impulse as the product was on promotion. With this in mind, operators need to clearly highlight their bagged snacks offering. By having snacks in a tidy display, with offers clearly highlighted, they are more likely to drive sales, especially when customers are enjoying a drink at the bar and get peckish!
Getting Attention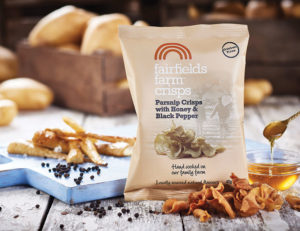 Display is definitely important adds Steve Bush Brand Manager at Fairfields Farm, "and pubs should consider their fixtures and make sure they are as attractive as possible to promote purchases, we're finding that many pubs and bars are aiming for more of a rustic feel and instead of displaying snacks on old-fashioned clip strips, they are now using rustic baskets or trays to show what's on offer. These often sit on the bar top, or at eye level behind it so customers can see exactly what's available at a glance. Large kilner jars are also a popular mechanism for displaying olives, nuts and healthy nibbles."
"What we're finding is that on-trade customers don't want to find the same snacks in their local as they do in the supermarket, so make sure you're offering a good range of choices that are a bit different and ultimately taste great! Many people head to the pub for an experience and a treat, so make sure your snack offering is as exciting as the pints you're pouring."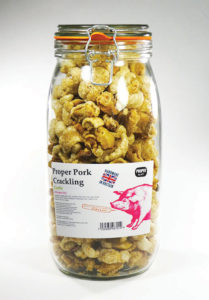 As people's lifestyles continue to get busier, many consumers now have less time to dedicate to eating sit-down meals, and are looking for more convenient ways to fill up says Jon Wood, commercial director of Calbee UK. "As a result, consumption of food on the go is on the rise. Research shows that meals have become more snack-like, with a market response to introduce more authentic food values into snacks."
"Operators can take simple steps in order to cash in on 'on the go consumption', such as positioning crisps near the till to entice consumers to pick up a packet.
No offering is complete without the legendary pork crackling says Rob Parkin of SCT-SCT, "We have just come back from a very busy International drinks exhibition at Excel in London. We are delighted to say that pork crackling is as popular as ever, the unique flavour and texture is something that cannot be matched. "All good landlords know how to please the customers and will have a good selection of ready snacks for every drink and every occasion. And simple ready to eat snacks work well! "Bar snacks are quick, convenient and increase profits, keeping the customers content and encourage more drink sales. We are now seeing something of a renaissance for traditional snacks in the on trade sector with pork scratchings in particular which abroad back into fashion"!